News: Local Rockers Saints Of Sin to Play Headline gig at the Old Fire Station in Bournemouth
on
January 17th, 2020
at
19:27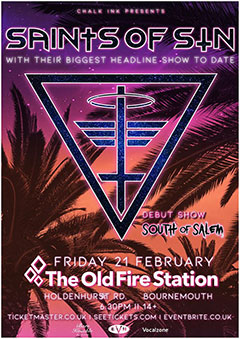 2019 saw local rock band, Saints Of Sin, launch their self-titled album to great popular and critical acclaim; receive national radio airplay on Kerrang!, Planet Rock and BBC Radio 2; and end the year with a series of UK tours which took them as far as Glasgow and Edinburgh supporting American super group Lost Angels and then Midnite City. Now Saints of Sin start 2020 with their biggest headline gig to date at The Old Fire Station, Bournemouth on Friday 21st February.
Rui Brito is Saints Of Sin's lead singer. His irrepressible stage presence and audience banter along with dynamic vocals is one of the hallmarks of the band's performance.
He said: "We're all totally psyched to be doing this gig. Having been playing all over the place last year, it's really exciting that our first gig of 2020 and our biggest ever headliner is in our hometown of Bournemouth. The Old Fire Station is an awesome venue – we reckon we're in for an amazing gig!"
With the release of their brand new album, Saints Of Sin have shaken up the formula and focused on creating a far more unique and distinctive sound than previous works. It's rock – but not as you know it! – fusing hints of Pop and R&B with a multitude of influences from Rock's many subgenres. In addition to Rui's powerful vocals, it features Marcus 'Sparxx' Jenkins whose melodic lead guitar and song writing skills make such a huge contribution to the band's sound along with the groove-laden rhythm section of Ash Jenkins on bass and Josh Rose on drums. The latter three were at Highcliffe School together whilst Josh and Rui met at university. A typical set mostly features their own original songs but with a smattering of covers including versions of chart-topping pop tracks as you've never heard them before!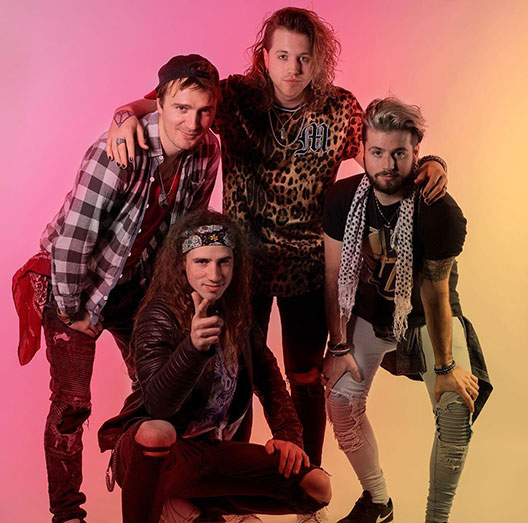 In 2020, the band will be playing some of the biggest music festivals in the area such as Teddy Rocks and Love Rocks as well as a number of great UK rock festivals like Gravity in Cannock and Hard Rock Hell. They are also in the planning stages of their first gigs in Europe and USA. Watch out Portugal and America – they're on their way!
Saints of Sin play The Old Fire Station, Holdenhurst Road, BH8 8AD on Friday 21st February with support from South of Salem & Wolf Jaw. Doors open 6.30pm, age 14+. Tickets, £10.00, are available online from the venue here (booking fee 72p) or direct from the bands. To find out more about Saints of Sin and South of Salem follow them on Facebook and all major social media sites.
Band Members
Rui Brito – Lead Vocals
Marcus Sparxx Jenkins – Guitar, Backing Vocals
Ashley Jenkins – Bass, Backing Vocals
Josh Rose – Drums, Backing Vocals
Links
http://www.saintsofsin.band
https://www.facebook.com/saintsofsinUK