Bournemouth's finest purveyors of all things Dirty Rock 'n Roll are back with another stellar EP to whet the taste buds of fans old and new. 2019 opens with "Phoney Highs", which is anything but phoney. The guitar intro doesn't stray too far from their trademark sound – albeit with a 70's Rock ní Roll slant. It has all the hallmarks of the era; intertwined with a clear and audible, yet layered vocal. The bridge has some serious noodling going on that sits perfectly in this confident opener.
'Rye and Dry' begins with a thudding drumbeat on this more Glammy number. There's a new twang to the guitars not heard before on a Shakes release that chimes to the beat in the bridge. Steve (guitar/vox) stretches his vocal range and style and this track is noticeably different to its predecessor. It's still Garagey and dirty to its core, but the new Glam/RnR feel comes through.
"Hound Dog" you'll be pleased to hear is not an Elvis cover, but a song more steeped in the Electric Shakes past than present. That said it has a multi-genre feel and would appeal to fans across the board. The vocals are strong, replete with added howls! The great snare hitting matches the scratchy guitars and throbbing bass.
"Trash" begins darker with a brooding guitar part which just grows, despite an understated vocal. A complete departure from the previous three songs; it's moody, menacing even. The guitar shudders throughout as those thudding chords grow heavier and heavier towards its conclusion. It has the feel of a "set closer" about it – they could shorten it or alternatively build it to a huge jam to close a show. The standout track (to this reviewer).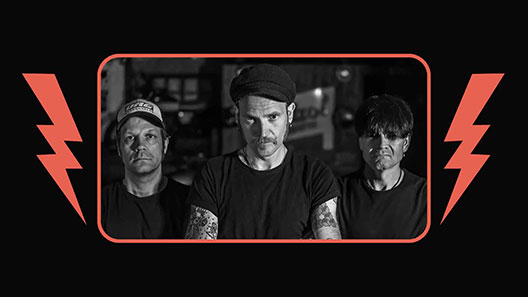 The beauty of the Electric Shakes has been their ability to constantly evolve and adapt. New bassist Wheelz has confidently stepped into the shoes of departing bassist Eric, but you wouldn't know it! Yes the core sound is still there, but their ability to take snippets from other genres and make their own is a skill few bands pull off. If the EP's title is a nod to a new era and departure from the past then hopefully 2020 will be the year they break-through and play to much bigger audiences.
Track listing
Phoney Highs
Rye and Dry
Hound Dog
Trash
Band Members
Steve Lynch aka Lynchburg – Guitars/Vox
Wheelz – Bass/Vox
Mark Spiers aka Basha – Drums/Vox
Links
http://www.theelectricshakes.com
https://www.facebook.com/theelectricshakes
Review by Ross A. Ferrone.