News: The Godney Gathering 2020 17th & 18th July 2020
on
February 5th, 2020
at
20:18
Garslade Farm, Godney, Somerset


The Lightning Seeds, The Coral, Judge Jules and British Sea Power all head to Somerset this July for The Godney Gatheringís 10th Anniversary, and with 2 #1 UK Singles, 8 Top 10 Singles & 7 Top 10 Albums between them, it's set to be the biggest Godney yet! Now in its 10th year, The Godney Gathering is celebrating with its biggest line up ever. Spanning across two days, itís packed with fun for all the family.
Topping Godney 2020 is The Lightning Seeds, with 2 #1 Singles and a Top 10 Album. The alt-rock band hailing from Liverpool are guaranteed to close Godney with a bang, playing their classics such as "Lucky You", "The Life Of Riley", and of course the football favourite, "Three Lions". With 1 #1 Album, 5 Top 10 Albums, and 3 Top 10 Singles, The Coral bring their incredible live show to Godney. Since their debut EP release in 2001, The Coral have sold over a million UK albums including 2003's chart-topping "Magic Medicine". Their eight Top 40 singles include "Dreaming Of You", "In The Morning", "Pass It On" and "Don't Think You're First".
DJ Legend Judge Jules has never shied away from pushing the boundaries in dance music. The Godney audience will be experience the iconic tracks that have defined his award-winning career through a ten-piece live band with Judge Jules at the helm. Combining the energy of specially-chosen outstanding musicians with his own inimitable presence behind the decks, Jules will take the audience on a tailor-made journey through dance music with vocals, hands-in-the-air moments and plenty of basslines.
UK Rock Gods British Sea Power will also be making their bold, galvanising mark on the Godney main stage, playing hits from the broad discography including "Bad Bohemian", "Waving Flags" and "Keep On Trying"; and with fans such as Lou Reed, David Bowie and Peter Capaldi, they're bound to get the whole family out of their seats! Fridayís live acts include Dr Meaker, Laid Black, Stop! Stop! and Shoot The Moon. Along with 14 other acts, the first-ever Friday at Godney is certain to be the best party – celebrating 10 Years of Godney.
But Godney isnít just about a star-studded lineup. There 57 other acts for all music tastes, from Godney Royalty The Leylines to Glastonbury FMís Songwriterís Contest winners Shoun Shoun. Thatís not all though. Thereís fun for all the family, including Comedy & Cabaret, the Festival Bazaar (a marketplace of wonderful goods) and The Playground ñ a special part of the festival where kids can take part in Circus Skills, Craft Workshops, play games and dance all day. And best of all, kids aged 15 & under go free!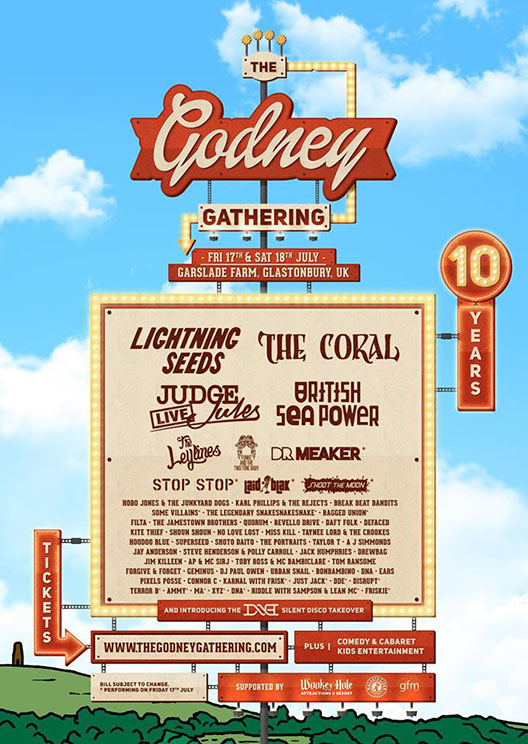 Tickets for Godney 2020 are available here.
The Godney Gathering
17th & 18th July 2020
Garslade Farm, Godney, Somerset.
Links
http://www.thegodneygathering.com
https://www.facebook.com/thegodneygatheringglastonbury