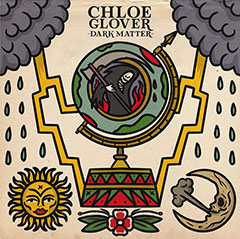 In amongst the world's current coronavirus chaos and uncertainty, Manchester-based troubadour Chloe Glover has released her debut EP entitled "Dark Matters". The EP in part was recorded at Futureworks Music Studio and partly in her flat in Manchester. Despite usually performing as a solo singer-songwriter, the EP was recorded as a full band, utilising the skills of Matty Blake on drums and producer Steve Millar (Arms & Hearts) on bass/electric guitar. The EP has been over a year in the making, notably due to Chloe's hectic lifestyle, juggling a full-time job along with her musical aspirations.
The EP features many "heart on sleeve" moments, where Chloe shows some of the difficulties that life has thrown at her and frankly tackles some hard-hitting subjects. She explains "It focuses primarily on the struggles of mental health and also complex romantic confusion that intertwines with a sense of self-identity". The tracks were selected from a whole collection of original tracks and it was felt that they reflected the spectrum of the music she creates. Chloe is one of a growing movement of artists who has a real punk heart and is not afraid to tell things as they are, with no beating about the bush. The EP's release was recently supported by her well-received appearance on the Isolate live stream event, which included performances from Gaz Brookfield, Joe Tilston and Dann Russo. These events are becoming much more commonplace with our current "Lockdown" situation, enabling music fans all over the globe to get our live music fix.
The first track to grace our ears is "Fool", which shows the Manchester singer with her acoustic guitar coupled with some background rhythms, delivering heartfelt lyrics detailing the frustrations that happen during relationships and the way they can twist your thoughts. At times, you can hear the sheer desperation in her voice, which delivers power at times to emphasise the points raised. 'Get Back Up' is another angry vent at the social pitfalls that life can throw at us. You get the feeling that Chloe has experienced these all and come out the other side a better person for it. The subject matter is something we can all relate to and it has a positive message that shines through clearly, with a hard-hitting, no-nonsense delivery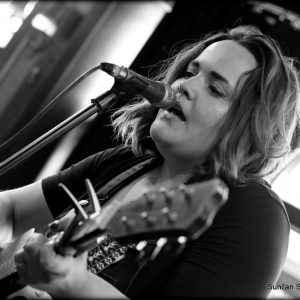 .
"Hurricane" more than whips up a storm and it's clear that this feisty anthem has a message to deliver; like a punk politician, she speaks to a generation, saying it's okay not to be okay. The song simply mixes acoustic and electric guitars to great effect and for a mainly home-recorded EP, it shows some creative production. The vocal range is pushed up a notch, as I'm sure Chloe's neighbours would tell that from what they heard through the walls of her flat during the recording. The final number "Silver Linings" racks up the pace with an upbeat tempo, infectious rhythms and a great chorus which could easily catalyse involvement from any live audience. There are no sugar-coated numbers here, Chloe delivers the truth and does not hold back. In fact, she positively gives her own dose of therapy to her audience. I believe this singer/song-writer has a lot more to give and I'm sure in the coming months/years we shall see plenty more from her.
Track Listing
Fool
Get Back Up
Hurricane
Silver Linings
Line Up
Vocals, guitars – Chloe Glover
Drums – Matty Blake
Guitars, bass, electric guitars – Steve Millar
Recording, mixing, mastering, producing – Steve Millar
Links
https://www.facebook.com/chloeglovermusic
https://chloeglover.bandcamp.com
Words by David Chinery.