Bournemouth four-piece Rock band 'Capulus' have recently dropped their new single amongst the chaos of the world's current Coronavirus pandemic situation. The band took themselves off to HP Studios just over the border in Ringwood Hampshire, which is run by the highly-rated Harrison Perks. Harrison recorded the track and mixed it, it was then sent to be mastered at the legendary Abbey Road Studios. The clean-living rockers fuelled their 9 hours in the studio with regular trips to Subway to keep themselves focused on the job in hand.
The track called "Resist" comes from many different angles and each member brings a host of individual influences to the band with music by Foo Fighters, Rage Against The Machine, Bring Me The Horizon, Avenged Sevenfold and Alter Bridge, being offered as personal inspirations. Capulus; with the help of HP Music, recorded a music video in a warehouse space which can be seen below. The aim was to have a video with a clean and crisp appearance, much like the Foo Fighter's song "The Pretender". It developed into a video that flicks between the light and the dark, which cuts to a masked individual band member to represent resistance. The song is part of a larger concept which becomes much more apparent as the band bring out further releases in the future.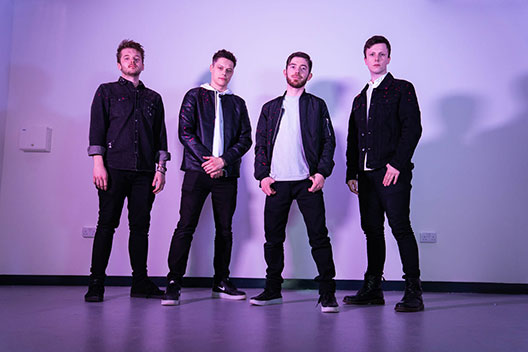 In these difficult times the song is a positive, uplifting slice of melodic Rock which shows this young band at the beginning of their journey. With friendships formed the band have also developed a musical chemistry where the four of them all bring their own considerable talents to their creations. The track brings big atmospheric effect-driven twin guitars; set to a backdrop of heavy infectious rhythms, coupled with soaring vocals. These guys are full of fresh new ideas and are clearly excited by the prospect of delivering their new music into our homes and onto a live stage. They are a band who show masses of positive potential and perform as if they were playing in arenas and stadiums; which is clearly their dream.
Capulus Are
Joshua Vaughan – Vocals/Guitar
Tom Riley – Guitar
Sean Bradford – Bass
Giacomo Vacca – Drums
Links
http://www.capulusofficial.co.uk
https://www.facebook.com/Capulusband
Words by David Chinery (Chinners).