Live Stream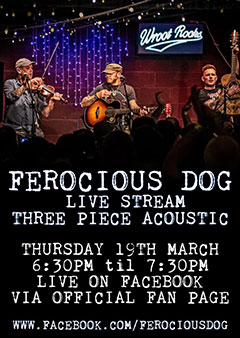 The situation we all find ourselves in at the moment with the Coronavirus pandemic is absolutely devastating, especially with our own liberty restricted. The fact that most of us cannot leave our homes and fulfil all our normal needs is disastrous, however, we as humans are a resourceful lot and most of us can pull together in the most diverse of circumstances. Warsop, Mansfield folk/rock band Ferocious Dog, fronted by one of the nicest blokes on the music scene, Ken Bonsall is one of the first bands to put together a live gig stream via Facebook.
They start off with a few technical issues with their computer, before switching to a mobile phone; which seemed to work well and attracted over 34 thousand views, along with over three thousand supportive comments from fans.
It was the three-piece version of the band with Ken on vocals/acoustic guitar along with his long term sidekick Dan Booth on Fiddle and new boy Ryan Brooks on the second Acoustic Guitar. The band took requests and played a near 50-minute set full of live favourites including opener "Gallows Tree", "Criminal Justice" and the brilliant closer "Slow Motion Suicide" featuring that epic fiddle solo from Dan. Ken even took time out to sing Happy Birthday to one elated female fan from Newcastle, as well as plenty of shout outs to fans watching all around the world. It may not be the same as one of their usual sweaty ruckus live shows that we have been used to, but it has been a great way to deliver some positivity in these dark days. I'm sure over the coming weeks and months these events will become commonplace, giving music fans the chance to get their gig fix from a safe distance.
Line Up
Ken Bonsall – Lead Singer/Acoustic Guitar
Dan Booth – Fiddle
Ryan Brooks – Acoustic Guitar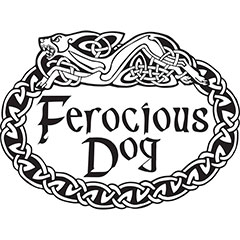 Set List
Gallows Tree
Happy Birthday
You
Cover Me
Criminal Justice
Ruby Bridges
Black Leg Miner
Johnny, I Hardly Knew Ya
Too Late
Mairi's Wedding
Slow Motion Suicide
If you wish to donate to Ferocious Dog via PayPal with Merch@ferociousdog.co.uk
Links
http://www.ferociousdog.co.uk
https://www.facebook.com/FerociousDog
Words by David Chinery (Chinners)
Pictures are Screenshots nabbed from the Live Stream.