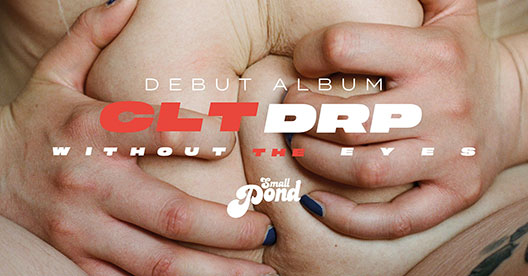 I was watching Captain America the other day and couldn't help but be reminded of just how far apart the ideologies of gender roles were during World War 2 compared to today. We've come a long way in realising that regardless of how we identify as a human being, we should be treated equally, but there's still a lot to be done for this to be fully appreciated. The immense progress we've seen over the past decades is largely down to those who been bold enough to stand for equality. This includes CLT DRP, a politically charged outfit who put feminism at the forefront of their craft. Based in Brighton, the band recently signed with upcoming label Small Pond Recordings, and announced their first full-length release.
Their debut record, "Without The Eyes", is built on the regression and progression woven into the feminist narrative of frontwoman Annie Dorrett, and it's explicitly delivered through her fierce, yet vulnerable lyricism. Expect a sense of oxymoron, as there are sweeping highs of triumphant assertion to swooping lows of unnerving self-deprecation. The "Intro" serves as a lesson, as Dorrett eerily repeats the correct pronunciation for the band's opus, before recoiling into laughter as she finishes by sarcastically questioning it. It reflects the reactions that some feminist views can receive, as no matter how many times a person tries to get their point across, it can result in ignorance and ridicule. The opening anthem "I Don't Want To Go To The Gym" cleverly rejects to the physical standards set in the media nowadays, as the lyrics refer to everyone's desire to look like a 2001 Jennifer Anniston before "Zoom 20" delivers bludgeoning blows, eclectic electronics and desperate, delay soaked howls.
Arguably my pick of the album has to be "See Saw" which is both playful and self-destructive. The chorus takes a classic tongue twister and morphs it into a recount of scarring childhood memories, with the vocal's spirited delivery masking the shadows of a troubling past. Lead single "Where The Boys Are" is an anthem of self-realisation and newfound confidence, which builds climactically into an emphatic, synth and riff-driven chorus. Its potent lyrics around gender equality fuel the fire in their sound, as the song firmly suggests that women deserve to be where the boys are. Electronic elements are explored further in the commanding "Skin Remover" as "Like Father" honestly considers the backwards father-daughter relationships that have been created by the attitudes of past generations. There are haunting overtones in the sinister "I Kill For Nothing" while "Speak To My" offers a taunting tangent to the raw energy they have offered so far. The experimental 'Hunt' throbs into a brash, electronic charge, seamlessly flowing into the pulsating "Worth It" which pumps as furiously as a malfunctioning heart monitor gyrating in an underground rave. Following a high-intensity crescendo, the spaced energy of 'I Always Liked Your Mother Better' finishes the record.
Although it may be a difficult listen at times for the faint-hearted, it's undeniable that the volatile, yet utterly captivating vocal and chaotically calculated instrumental throughout the record urge the listener to face the harsh reality of the pain and struggle that so many women face in their quest to be treated equally. "Without The Eyes" is an empowering, yet gut-punching rollercoaster of a debut from a charismatic outfit that have brought tenacity, dynamics and vital messages to the table. Don't miss the chance to see this record played live on their upcoming tour, as I feel it's one that will truly come to life in the flesh.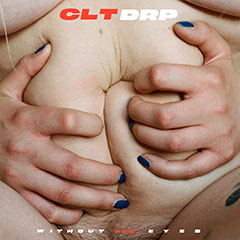 Track Listing
Intro
I Don't Want To Go To The Gym
Zoom
See Saw
Where The Boys Are
Skin Remover
Like Father
I Kill For Nothing
Speak To My
Hunt
Worth It
I Always Like Your Mother Better
CLT DRP are
Annie Dorrett – Vocals
Scott Reynolds – Guitar
Daphne Koskeridou – Drums
Link
https://www.facebook.com/CLTDRP
Words by George Fullerton.