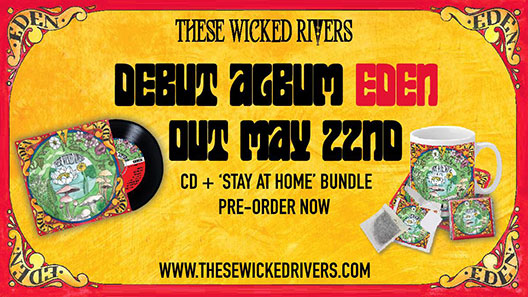 After the release of their two EP's Derby four-piece Rock act These Wicked Rivers finally unleash the much-anticipated debut album Eden on the world this month. The band were formed in 2014 and soon after with their live show were impressing all with their own brand of modern Rock, which is influenced by some of their contemporaries. The band join an ever-growing movement of Rock bands who embrace the legends of the past, whilst modernising the genre with many original twists and turns. The band went into Mwnci studio in South Wales to record the album with the help Jethro Chaplin; who has plenty of experience with other bands of this genre including Bad Touch, Florence Black and Buffalo Summer.
The album kicks off with an interesting short, old-time Country-style ditty called "Tea Leaves"; which is quirky and quite different from the rest of the album. It tells a story of what a reader is seeing when looking into a mug of tea leaves, with the main theme being the demise of humanity. The track features some infectious rhythmic percussion; coupled with some resonator-style slide guitar, before the band hit you with all guns blazing with a beautiful wall of noise. "Shine On" is a modern anthem that cannot fail to move Blues-infused modern Rock music fans. It features brilliantly creative, melodic riffs that interweave the seismic rhythms. The momentum continues with "Hit the Ground" which jostles its way along with a tune that anyone of us would give their eye teeth to see performed live in our current incarceration.
"Floyd" is a true tune of sheer mammoth size and shows that this band have huge creative skill. It's a dark tale about how mankind's true nature finds its perfect companion in the deep intensity of Floyd's sonic dimension. The two guitars work together in beautiful unison, combining with the hefty grit-laden vocal delivery. It has a real Western feel to it and paints a picture in your mind of the typical landscape to match. Guitarist Arran Day explains: "Floyd was the first song I ever brought to the band lyrically. It's a tale about a homeless gentleman who sits in doorways silently watching people committing sins "… Floyd sits still in the cold wet night, shackled to the sins he's indebted to find…" The people he's been watching eventually notice him and all of a sudden Floyd disappears. Was he murdered by the people to hide their lies or was he a projection of their guilt, which they've just removed to continue happily sinning away? Who knows?"
Without even taking a breath "Evergreen" chugs away like a steam train powering its way through the Countryside. The song turn's on its heels with a much more modern sound and rolling riff, that will send all guitar players back to the rehearsal rooms. "Money" starts with some military-style drumming before the twin guitars once again light up and meander, circling each other perfectly. It's difficult not to be impressed by the sterling electric guitar skills of John Hartwell and Arran Day, who both excel on this record. "This Train" show the foursome's creative juices working once again, with a tune that shows all their collective ingredients firing on all cylinders. "Count To Ten" powers it's way along with some particularly innovatory drumming, with Dan Southall showing his brothers in arms the way.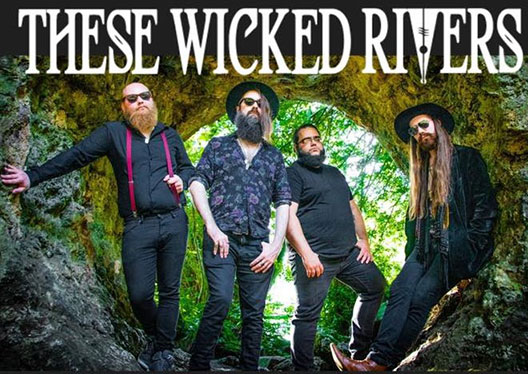 "Ceasefire" gives the bassist Sam Williams the chance to open the tune with some solo chugging, before the drums and guitars majorly join in. The album is unashamedly a guitar album and lovers of the intricacy of the six-string will really appreciate the efforts these guys have gone to in getting these tunes just right. If you listen to track 10 "This Garden", you can hear this in abundance. This, of course, is also shown on penultimate track "Won't Be Broken" where there is a continuation of the band's skills, showing there are certainly no fillers on here. The final track "World In Chains" has a smouldering feel to it; was John toning down the vocals initially with bursts of significant power throughout, it has a progressive feel with the band stretching the creativity here and once again there is a distinctive Western feel to it. You could imagine it fitting perfectly on a soundtrack to one of those epic cowboy movies. For those of you who like your music on CD you are treated to a bonus track "Don't Pray for Me".
The bearded quartet has produced one of the best debut albums I have heard in a very long time and I'm sure once people get to the end of the record, they are going to want to stick it on again and again as there are so many elements to take in.
Track Listing
Tea Leaves (Intro)
Shine On
Hit the Ground
Floyd
Evergreen
Money
This Train
Count To Ten
Ceasefire
The Garden
Won't Be Broken
World In Chains
Don't Pray For Me (Bonus Track on Physical Copies)
Band Members
Vocals/Guitar – John Hartwell
Guitar/Vocals – Arran Day
Bass – Sam Williams
Drums/Vocals – Dan Southall
You can pre-order the album here.
Links
https://www.thesewickedrivers.com
http://facebook.com/thesewickedrivers
Words by David Chinery.