Dublin based band Restive Nation release their new EP "Lucidum" this month, it's packed with a multi-genre explosion of alternative influences from Depeche Mode, Tool and Massive Attack to Nine Inch Nails, A Perfect Circle, and Steven Wilson. The band formed back in 2014 setting out as a three-piece taking on a new slant on alternative, electronic-based music by fusing elements of Heavy Rock, Ambient soundscape and Progressive technical Metal; creating a hybrid of pulsing, left of centre anthems that showcases the band's enormous potential. The band quickly established themselves as one of the most exciting live acts on the Irish circuit. Restive Nation then set about expanding the band's sound with a line-up reaching seven members, three of which include very different and versatile vocalists. Their blueprint is futuristic, progressive, non-bias of genre or style and respectful to the forgotten roots of previous sonic pioneers and explorers of sound.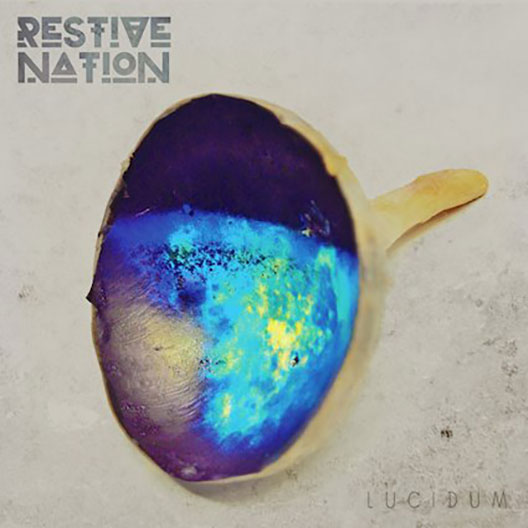 The EP opens with "Tapetum" a slow-burning introduction featuring some progressive electronic keys, combined with some impressive guitars; before we are bestowed with the considerable single "Coma", a song that batters the senses with dark soaring melodies and mind-altering rhythms. The band explain "The lyrics revolve around themes of suicidal thoughts and the many masks the victim wears in modern-day society; the lies we tell ourselves in our subconscious when experiencing a mental health crisis and stepping out to the edge into the unknown. The lyrics and music are extremely intertwined, and both help convey the daily conflict people can face deep inside their mind. The contrasts and dynamics help portray the inner turmoil one can experience when dealing with dark thoughts". At just three minutes long it leaves you wanting more; much more, and I'm sure when they return to the live stage this anthem has the ability to be a very valuable asset to their performances.

"The Prouder Ones" starts off with some understated creative sounds, before the smouldering vocals drool over the guitars and keys which give the sounds of a collection of everyone's favourite bands colliding together to bring a unique futuristic sound that delivers in all areas. The uniqueness continues on 'Hectic Head (If Ya Die On Me…)' with some incredibly atmospheric effect-fed guitars, along with the hard-hitting brain-drilling lyrics. The song has a real industrial heart with provocative lyrics that will stir consciences. The final track "Descent" sets its own space-style landscapes using the distant but prominent piano, coupled with synth sounds swirling around the distinctive vocal and the ever-present guitars.
The production on this 5 track masterpiece is immense and it truly needs some quality equipment to fully appreciate all the band have put into this. It's a recording that makes you ask more questions than gives you answers, leaving you yearning for more.
Track Listing
Tapetum
Coma
The Prouder Ones
Hectic Head (If Ya Die On Me…)
Descent
Restive Nation are
Chris Cahill – Production & Sound Design, Guitar, Vocals.
Ciaran Timmy Lynch – Bass.
Ben Thonett – Synth
Cion O'Callaghan – Drums
Tony Carberry – Vocals
Neal Pawney Bond – Vocals
John Atmahead – Vocals
Pre-Save link for "Lucidum" can be found here.
Links
https://www.facebook.com/restivenation
https://twitter.com/RestiveNation
https://www.instagram.com/restivenation
Words by David Chinery (Chinners).