Single: "Living In Fear!" by The Urban Voodoo Machine
on
June 12th, 2020
at
19:01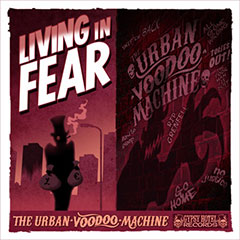 On Gypsy Hotel Records those bible black & blood red rogues The Urban Voodoo Machine have released their new single "Living In Fear". The song was originally written about great British scandals Grenfell ("it's hard to sleep in a plastic tower") and the Windrush scandal ("they're shipping 'em back"). The single recently took on a new meaning with the onset of the wretched Corona Virus with the fear and panic that it is causing as to what's safe or what's not. The band use a host of influences to bring together their own self-described trademark "bourbon-soaked gypsy blues bop'n'stroll". It features an initial Caribbean flavour, before the band light the touch paper with an infectious Punk/Ska beat.
"Living In Fear"; along with the previous single "Johnny Foreigner", are taken from the band's upcoming fifth studio album "Snake Oil Engine" which is due out later in 2020. Towards the end of last year, the band was honoured to find their 2014 album "Love, Drink & Death!" had been nominated for "Album of the Decade" by Classic Rock Magazine. Paul-Ronney Angel & his family of superbly talented musical miscreants have spent 17 years making music and have toured with legends The Pogues and the New York Dolls. They have performed at many prestigious festivals including Glastonbury, Download, Latitude and Bestival in the UK, as well as many overseas gigs; Montreaux Jazz Festival (Switzerland), Passpop (Holland), Sjock (Belgium), Sziget (Hungary), Lviv Stadium (Ukraine) to name a few. Their unique eye-catching performance style, along with their relevant hard-hitting lyrics have audiences captivated at all of their shows. However, like the rest of the music industry, their live activities have currently been ground to a halt due to the current pandemic.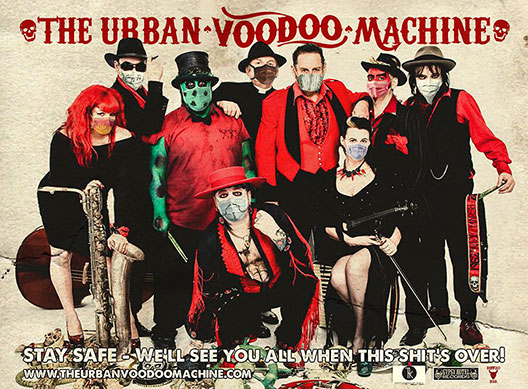 The Single is a creation of some considerable depth and takes the band's sound to a new level with the sun-drenched steel drum sound, combined with bursts of uplifting brass and danceable multi-cultural beats. Bandleader Paul-Ronney Angel brings this all together with his finely delivered, hot and dirty vocals that clearly deliver the despicable frustrations of the song's subject matter. With a live show that's terrifyingly bizarre, hysterically funny, a riot for the eyes and a sensation for the ears, The Urban Voodoo Machine are shaking a fistful of dynamite and a death rattle towards the powers that be! Soon to be back on the road when Corona Virus has been kicked into oblivion, the band look forward to seeing everyone at their gigs as soon as it's safe to do so.
Links
http://www.theurbanvoodoomachine.com
https://www.facebook.com/TheUrbanVoodooMachine/