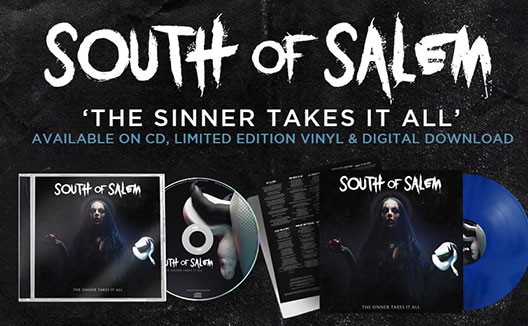 Bournemouth alternative rock protagonists South of Salem release their debut album "The Sinner Takes It All" this month. These guys have jumped in head first using the renowned Grindhouse Studios in Suffolk; with production, mixing and mastering completed by the notable Scott Atkins who seems to favour the alternative rock genre. He has previously worked with big names like Cradle of Filth, Amon Amarth, Sylosis and Polish Satanist's Behemoth. Before joining forces they individually all have plenty of experience in their field; with over a decade working on various musical projects supporting the likes of Iced Earth, The Damned, Wednesday 13, and The Birthday Massacre. The band explain the album is inspired by "greed, manipulation, corruption, abuse – essentially what we're tackling here is low life in high (and low) places; and even though we've seen some positivity come out of this awful Coronavirus pandemic, it's not enough. Sadly; most of the time it is the people that use others, that manipulate and do wrong that ultimately come out on top and leave a trail of mental health and wellbeing issues in their wake!"
Frontman Joey Draper says "The lyrics effectively reflect the human race and where we are today as a society and how some people handle relationships, wealth over health… especially right now". "The album title is a play on ABBA's 1980 hit "The Winner Takes It All". Mixing the tongue in cheek puns along with such heavy subject matter gives everyone a chance to relate in their own way. On a personal note, we chose the album title because all the band members have been to hell and back with their lives in recent years. Some of it privy to intimacy, some of it from our experiences of being musicians trying to navigate one of the most mentally challenging industries in the business. As I dived deeper into the lyric writing, it became apparent the words had a much broader meaning and chimed with the times".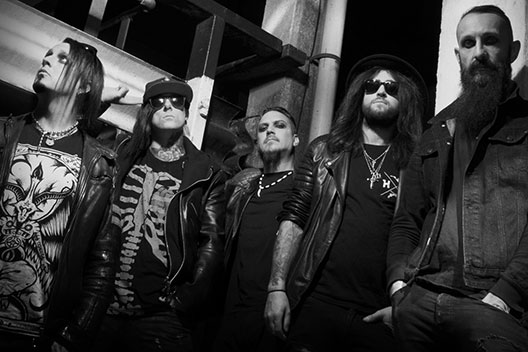 The album opens with the band's debut appetiser single "Let Us Prey"; which introduces powerful rhythms set around a twin melodic, fast-paced guitar – coupled with Joey's powerfully delivered vocals. The track started life as a tribute to 'The Purge' film series with the lyrics detailing a lawless society turning on their masters. "The Hate In Me" is a song with a deep-rooted positivity, dealing with the toxic effects of modern-day people living their lives on social media; with all the abuse and negative influences. The song aims to bring the courage and knowing when to walk away from abuse. It's about building confidence and ultimately not letting the toxicity bury you. The song flows with plenty of influences that have been used to create the band's unique take on their own type of alternative. Once again on track three the band take the title from a well-known phrase and slightly twist it; this time "No Place Like Home" morphs into "No Plague Like Home", a song that at times sounds like Metallica and sometimes sounds like Marilyn Manson – the best from both worlds with the celebratory shouts of the title by all of the band. It's a song about the fear of the unknown and can certainly be felt during these current difficult times.
"Pretty Little Nightmare" shows a change of direction with a more classic approach and Joey shows a different side to his considerable vocals skills. While 'Made to Be Mine' is much darker, telling the devastation of an unfaithful relationship. The guitars melodically glide their way through the tune, complemented by darkened bass tones and drums. "Cold Day In Hell" is the band's second single released from this collection and despite its subject matter of abuse; it's an uplifter with soaring melodies and an infectious chorus, along with an impressive guitar solo. With the chanting part "All The Fear Blood & Tears", it is sure to become a live favourite when the band finally get back on to the live stages once again.
Track seven "Demons Are Forever" is yet another twisted title with the writer probably having spent lockdown as many of us have watching old James Bond movies, getting the name from the Sean Connery classic "Diamonds Are Forever". This song shows the band at their creative best with plenty of stirring twists and turns along the way; with its beautiful layered sound, which is created with help of The Defiled/Red Method Keyboardist/Samplist The AVD (Alex Avdis). 'Another Nail In My Coffin' sees the band returning to the more heavier sound with the tune's title being a deviant take on the saying "another notch on the bedpost". It details relationships built upon lies and fake personalities that come from meetings from online dating apps and social media. "Severely Yours" is another alternative slice of alt/rock with is chugging guitars and infectious hard rhythms, it deals with the temptations the can be found in long-term relationships. The band keep their momentum right to the very end with their final number "Dead Hearts Don't Break", hitting the spot once again with its powerful message about coming to terms with depression. It also seems quite apt that Joey here sounds a little like the late Chester Bennington from Linkin Park. The song clearly comes from personal experience and is delivered with a real depth and passion in the hope that it reaches out to others.
It almost feels that during the course of the album the band have delivered numbers that take in virtually all the seven deadly sins; taking on subjects that are close to them all, affecting their lives in one way or another. I'm sure to make the album has been like a form of therapy and it's clear all five guys have put their all into making it. It's an impressive debut and one that I'm sure will be taken into the hearts of their fans and hopefully reach out further afield. You could easily see these guys appearing on a festival stage at Bloodstock or Download in the not too distant future.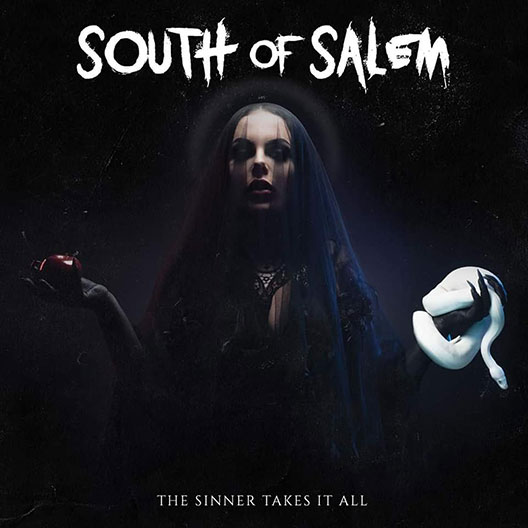 Track List
Let Us Prey
The Hate In Me
No Plague Like Home
Pretty Little Nightmare
Made To Be Mine
Cold Day In Hell
Demons Are Forever (Featuring: Alex Avdis of Red Method/The Defiled)
Another Nail In My Coffin
Severely Yours
Dead Hearts Don't Break
South Of Salem are
Joey – Vocals
Fish – Guitar
Kodi – Guitar
Dee – Bass
Pip – Drums
Links
https://www.southofsalem.com
https://www.facebook.com/southofsalemofficial
https://southofsalem.bigcartel.com
Words by David Chinery (Chinners).