News: Rock Exclusive! – Win A Signed Brian May Guitar
on
November 10th, 2020
at
19:41
Calling all fans of Brian May and Queen…"The Show Must Go On" – Raising funds for Pop 4 Diabetes

This is your chance to own "The BMG Special" guitar signed by the legendary Brian May of Queen. Raising funds for Pop 4 Diabetes, the guitar is now on auction and looking for the highest bidder. The guitar and collector's piece has been donated by Brian May and Anita Dobson who are loyal supporters of the charity. The auction is also part of World Diabetes Day on Saturday 14th of November which is the primary global awareness campaign. Brian May CBE is the much-loved musician, singer/songwriter and record producer. Well known and respected as the lead guitarist of the rock band Queen.
Sponsored by United Taxis and Absolute Music, the auction is proudly supported by these two Bournemouth based and independent businesses keen to help the charity. Guitar expert Richard Malpass of Absolute Music mentions "Brian May is an inspirational guitarist who many of us have grown up listening to. It is a pleasure for Absolute Music to support the campaign." The guitar is inspired by Brian's legendary Red Special, an instrument that has achieved iconic status and its own unique place in rock history.
Shane Board, Director of Pop 4 Diabetes comments "We are so lucky to be supported by such wonderful people and the lovely Anita Dobson and Brian May offered the guitar to help us raise funds. It is a hard year for most including charities trying to fundraise. The guitar is amazing and to be signed by such a legend, we are over the moon. The auction is looking for Brian May and Queen fans, a musician who appreciates a great guitar and someone who would like to help fund the vital research for diabetes. The guitar is the ideal Christmas gift or a personal treat added to a collection of memorabilia."
World Diabetes Day is an important milestone for many. Diabetes is a major part of some lives having to adapt lifestyles to cope with the condition. Pop 4 Diabetes' main fundraiser ball was sadly cancelled this year due to the Covid-19 epidemic and the charity is now hoping the auction will be a lifeline to continue the much-needed testing to help find a cure.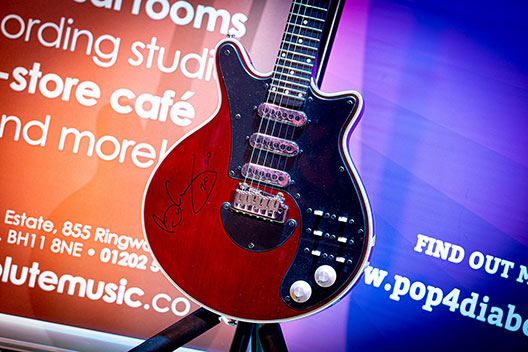 Mum of 3 diabetic children, Clare comments "Pop 4 Diabetes has given me access to the most wonderful community of people to talk to and share experiences with. When Ceris was diagnosed she was so very ill and close to dying. I knew nothing and felt like I had no one. She was only eight years old. Pop 4 Diabetes gave me a feeling of belonging and of hope. As time went on the realisation of Type 1 became more real with the diagnosis of our son Louis when he was eight and some years later Quentin when he was five. Heartbroken and overwhelmed, I had the other mums and dads from the Pop 4 Diabetes community to talk to. This is the most wonderful support charity. I cannot thank them enough for being a part of our lives."
Pop 4 Diabetes was founded by Iris Board after her son Shane was diagnosed with Type 1 at the age of ten. Supporters of the charity include Lorraine Chase, Kerry Katona, Steve Norman of Spandau Ballet, Shelley Preston of Bucks Fizz, Big Brother winner Sam Evans plus many popular acts from TV shows such as Britain's Got Talent, X-Factor, The Apprentice, The Voice and stars from Hollyoaks, EastEnders, Emmerdale and Coronation Street.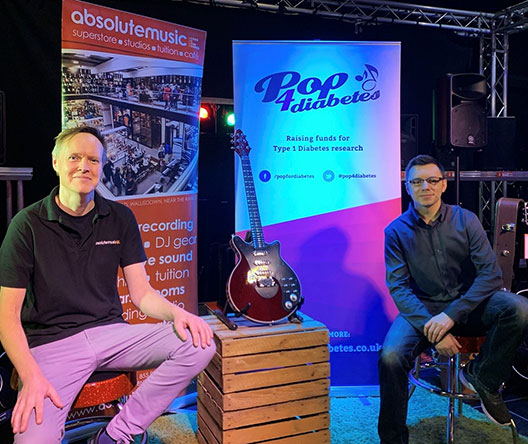 Through Shane's positive fundraising over the years, he has won ITV Meridian's Child of Courage and the British Citizen Award where he was also given the Role of Honor to become an Ambassador for this accreditation.
The charity continues to fight the battle of diabetes and hoping for the auction to be a huge success. Brian May and Anita Dobson are proud to support the cause and keen to see funds raised via the campaign.
With a small window to bid, members of the public can visit the auction website for more details here or email contact@pop4diabetes.co.uk.
The auction is live now only until 23rd November 2020.