News: Wayward Sons Release New Single 'Even Up The Score'
on
December 15th, 2020
at
21:02
and Announce tour in November 2021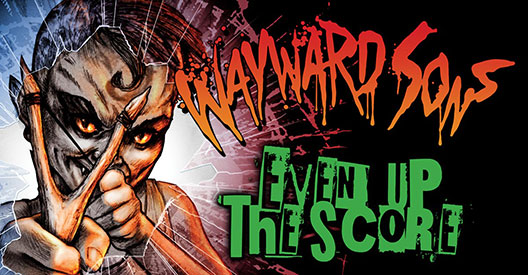 Even Up The Score is the first new music from Wayward Sons since the band's second album The Truth Ain't What It Used To Be,released in October 2019.
Frontman Tony Jepson comments: "Even Up The Score is asking the question: "do you know yourself?", and by extension, "are you aware of the consequences your words and actions have?"
So much of modernity is now ruled by the sound-bite, the one line and the knee jerk reaction. We all hide behind screens and believe we have a right to say anything we want no matter whether backed up by truth or not, or how much it may hurt or discredit, often without evidence. The song challenges the listener to take a step back, a breath and to think before you speak or act – to draw back from vitriol, from hate and ill-informed judgement and find an EVEN KEEL, a more level place to view the world and others. Before we decide we are right, shouldn't we be willing to consider that we may be wrong? In a world of desperate imbalance, it is a choice to add to it or address our own imperfections and prejudices."
In a time in which we are all craving for live performances, Wayward Sons are very excited to announce their first UK headline tour since 2018! The band will hit the road in November 2021, bringing their stunning live shows on UK and Ireland's iconic stages.
They have an impressive resume of groups they have previously worked with – Little Angels, Gun, Spear Of Destiny, Treason Kings and Chrome Molly to name a few – which is reassuring in terms of the band as players, but doesn't really hint at their sound. Wayward Sons sound nothing like the sum of their parts. The music is hard rock, but mixed with a vitality and energy – both musically and lyrically. The band are currently continuing work on their third album which will come in 2021… stay tuned for more news!
UK /EIRE TOUR DATES – NOVEMBER 2021
Saturday 6th November – Dublin, Opium
Sunday 7th November – Belfast, Limelight 2
Tuesday 9th November – Manchester, Academy 3
Wednesday 10th November – Glasgow, Cathouse
Thursday 11th November – Newcastle, Riverside
Saturday 13th November – Leeds, Wardrobe
Sunday 14th November – Nottingham, Rescue Rooms
Monday 15th November – Bristol, Thekla
Wednesday 17th November – London, Islington Academy
Thursday 18th November – Wolverhampton, KK Steel Mill
Wayward Sons are
Toby Jepson (Vocals/Guitar)
Sam Wood (Guitar)
Nic Wastell (Bass)
Dave Kemp (Keys)
Phil Martini (Drums).
Links
http://www.waywardsonsband.com
https://www.facebook.com/waywardsonsbanduk