News: Skam Release Their New EP "Intra" On 26th Feb
on
January 23rd, 2021
at
11:23
out via X Ray Records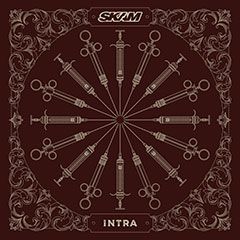 New EP Intra is the first EP of a 2-part anthology making up the 4th full-length release by UK power rock trio SKAM. Having honed their craft the lads have gone back to basics and put together a collection of hard-hitting tracks.
Inspired by modern-day struggles, each song focuses on a negative human trait, but sends the message that in any situation there is always hope. 
SKAM recently released new single & video 'One Track Mind', featuring Paul Mahon (The Answer).

This track sees the boys express the darker side of the SKAM sound, The fuzztastic buzzsaw riff heralds the story of a man with insomnia, the trouble he has getting to sleep and the thoughts in his head. All be it for a chilling reason…inspired by the strange notion that even the most innocent can have dark secrets and things hiding in the shadows.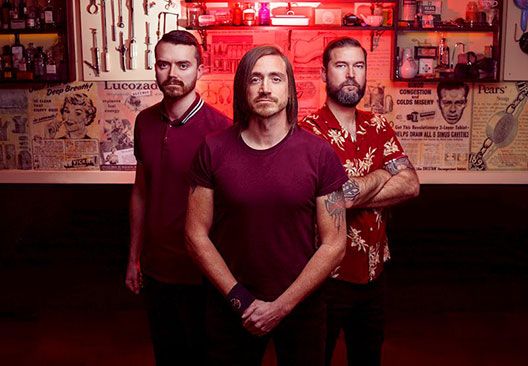 The track itself is the perfect blend of what Makes SKAM popular, hard-hitting riffs and a melodic sing-along chorus. Produced by Matt Elliss. The track features a guitar duel outro by Steve Hill of SKAM and Paul Mahon of 'The Answer' makes a guest appearance to add some further fire. Steve says: "The Answer were the first band to take us on the road so will always have a special place in our hearts, Paul has become a good friend and has some serious face-melting skills so I could think of no one better to offer out to a guitar duel for our track "One Track Mind" we were overjoyed when he agreed and we are so proud of the result" Turn it up loud and enjoy.

Formed in 2011, SKAM are a hard rock power trio band from the middle of England. They have a reputation for delivering no-nonsense, gutsy, classic-sounding British rock music.Over the last 9 years, the band have worked tirelessly to build a solid following in the UK, and now they are widely considered to be at the forefront of the 'New Wave of Classic Rock' movement that is currently sweeping the nation.
To date, the band have independently released 3 albums. 'It's Come to This' (2011) and 'Peacemaker' (2014) were released to critical acclaim and the band established themselves as a live force to be reckoned with. The band have hit road with The Answer, Airbourne, Skindred, The Quireboys, and GUN to name a few and are considered a formidable live act.

A drive to innovate inspired SKAM to release 'The Amazing Memoirs of Geoffrey Goddard' (2017), a concept record based on the diary entries of a time-travelling RAF pilot. The songs were described as 'gritty anthemic rockers' by Classic Rock Magazine and the album received a number of 5-star reviews from the UK Music press. SKAM don't write songs to a formula, they write songs as rock fans, trying to capture what they would want to hear.
Tracklist
Green Eyes
Wake Up
One Track Mind
How Many Times
Fight The Fire
On The Run
SKAM are
Steve Hill – Guitars – Lead Vox
Matt Gilmore- Bass – Backing Vox
Neal Hill – Drums – Backing Vox
Links
http://www.skamuk.com
https://www.facebook.com/SKAM.UK