Bournemouth Hard Rockers Black Tree Vultures are about to unleash their third EP, aptly titled "III" and the band intend this to be their final EP release before they start work on a debut album. The four friends formed in late 2017 with plenty of ambition to give energetic, positive and motivated performances; providing a show with audiences wanting more. The band have played some 150+ shows in several different Country's, gaining momentum and securing an extremely positive attitude within the music industry.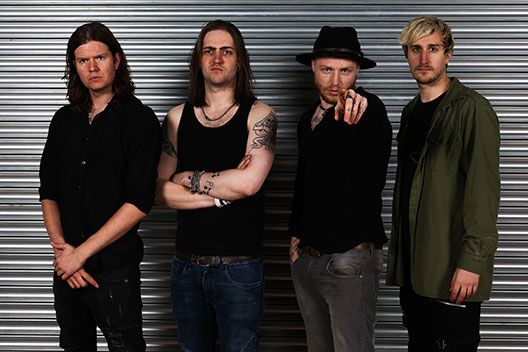 After performing the songs in front of a live audience many times giving them the ultimate test, the band then flew out to a studio in Spain and recorded the four songs with the help of renowned producer Madrid born Guillermo "Will" Maya. Will has achieved some amazing results with some of the top acts from the world or Rock including The Answer, Breed 77, Panic Cell, The Heretic Order and Iron Maiden's Adrian Smith. With Will's experience and outside perspective, he helped drive the band into recording their best work to date. Bassist Ched explains "it was the perfect way to record. In a sleepy Spanish village, you'd never know behind sound-proofed walls a British Rock band was hard at work, recording their best work to date. It took us away from our day to day lives, relaxed us and nurtured a focus that allowed us to give our best performances. These individual performances; married together and mixed masterfully by Will, embodies to us our friendships and our experiences together that led us to that point. This EP represents us at our best and our most creative".
The EP opens with "The Unforeseen" with some of Ched's rib-crushing basslines, before being joined by Aaron's heavy guitar riffs with Celyn's towering vocal delivery being the proverbial cherry on top. It's certainly one of the songs that could well easily generate some serious movement from virtually any live audience and the way these guys deliver it, it would shake the rafters off any music venue. "Veins" continues the high momentum with some excellent hard-hit creative drumming from Jonno, while his brothers all bring in the combined creative abilities to push the envelope further than they have done before. The guitar solo here is something of real beauty and my only wish is that it was longer.
"Run Back To The Dark" is a real atmospheric, emotive beast of a tune; one that has the ability to tug at even the toughest of heartstrings. Though it's a little slower-paced than the first two, it has no less impact and out of all of the material I have heard this is head and shoulders one of their best. All the moons must have aligned on the day this song was created, a classic if ever I heard one and a tune that I'm sure will make an impact for them on the major Rock radio stations and beyond. The dark moody basslines pave the way for the mood-changing guitars and pulsating drums. The musical backdrop is the platform for Celyn's emotive vocal that screams out in pain, about the horrors of mental health from an extremely personal point of view. The final track "Downfall" has a real chugging groove going on and with the infectious rhythms, the track positively bounces along. It features a hooky chorus that will capture its listeners in the bands proverbial trap and of course it won't relinquish its grip.
These recordings show the band really coming of age and they have really benefitted from the experience and knowledge provided by Will Maya, who has coerced the band into producing their best work to date. These guys are not afraid of hard work and are prepared to do whatever it takes to fulfil their musical desires. Once the live music circuits kick off again these guys are well placed to secure a much larger place in it than they have done previously. Clearly, they are destined for larger venues and bigger festivals……the world beckons.
STOP PRESS: In a bitter blow to this rapidly rising band it was announced this week after the above release that bassist James "Ched" Cheeseman and vocalist Celyn Beynon have regretfully left the band. The remaining member's drummer Jonno Smyth and guitarist Aaron Hammersley vow to carry on the name by carefully recruiting. With a band that had such an amazing chemistry and creative power, it's certainly going to be difficult to reinvent this sort of kinship once again.
Track-Listing
The Unforeseen
Veins
Run Back To the Dark
Downfall
Black Tree Vultures are…
Celyn Beynon – Vocals
Aaron Hammersley – Guitar
James Cheeseman – Bass
Jonno Smyth – Drums
Links:
http://www.btv-band.co.uk
https://www.facebook.com/BlackTreeVultures
Words by David Chinery (Chinners)