News: Brandon Gibbs Releases New Single "Lost Boys"
on
March 9th, 2021
at
19:27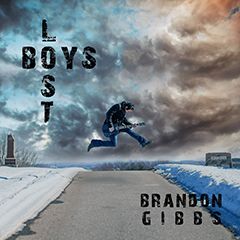 Brandon Gibbs, an explosive guitar player and singer/songwriter who has a powerful, soulful voice and a brilliant sense of melody that sets him apart from his contemporaries.
"Lost Boys" is a pure rock tune and it shows the heavier, darker side of Brandon both lyrically and musically as it was written and recorded during the Covid-19 pandemic. It is drenched with emotion and honesty.
"Lost Boys is a song for the people As an artist it's my job to put feelings into words and song. 2020 was like living in a nightmare for millions upon millions. From wildfires, a global pandemic, riots, a derecho, loss of so many lives, people not even having a chance to say final goodbye's properly, shut-downs, loss of employment, closed business's, stages for the arts being closed down and the one thing that brings us together like music events being prohibited… We all collectively got hit so many times that one can't help but feel empty and lost. I won't ever forget it and we all have long-lasting scars from it. Sink into the lyrics as this isn't about the good times rolling, this is about being so vulnerable you can't help but scream it out loud! "I don't want to be a lost boy AGAIN!" – Brandon Gibbs
Brandon Gibbs is best known for being a cryptic, spiritual, radiant songwriter & national live performer. Brandon's songwriting takes you on an incredible journey throughout each performance, often transcending genres of rock, blues, pop and country but all the while still remains Brandon in every play. The cocktail that is equal parts songwriting, performing and compels his fans to continue to support his journey also has a heavy measure of explosive guitar work that has been instilled in the 35-year-old artist since the age of 8. This keeps his fan base nothing short of all included! He's also a public speaker and a major advocate for anti- bullying.
Brandon's passion for guitar began around the age of eight. At the age of fourteen, he and his twin formed The Gibbs Brothers Band and would perform together for the next 10 years while also writing and recording together. Their reputation for harmonies, instrumentation, and pure entertainment earned them more opportunities than most unsigned bands ever see. Some of their shows included The Doobie Brothers, Poison, Bret Michaels, REO Speedwagon, Foreigner, George Thorogood, the late Jeff Healey and many others.
When Brandon and his twin parted ways musically in 2010, Brandon began travelling extensively as a solo artist. In 2012, Brandon formed the band Cheap Thrill which featured two members of multi-platinum band Cinderella. Cheap Thrill toured nationally and internationally and still performs presently. Brandon would write and record during his downtime, and his song, This Town, was picked up by the John Force Racing Team and was eventually used for ESPN's NHRA division for three consecutive seasons.

In 2014, Brandon joined forces with Rikki Rockett (Poison), Tracii Guns (L. A. Guns), and Eric Brittingham (Cinderella) to form Devil City Angels. Their first single, All My People, which was actually previously written and recorded by Brandon and his twin brother, was used in the State Farm segment on the 2014 Monday Night Football Countdown. Devil City Angels was quickly signed by Century Media Records and released their self-titled record in September of 2015. (In 2020, DCA surprised their fans and released a video called "Testify" which Joel Kosche (Collective Soul) co-wrote, produced and performed with Brandon and Rikki and Topher Nolan. In 2015, Brandon was asked by members of multi-platinum band Poison, Bobby Dahl, Rikki Rockett, and CC DeVille to perform hits from the Poison catalogue. They were called "The Special Guests."
In 2017, Brandon also created an incredible guitar-driven show called "Planet Axe" featuring Ryan Roxie (Alice Cooper) and Joel Kosche (Collective Soul) This show was extremely well received by fans.
2016-present – Brandon and Joel Hoekstra (Whitesnake, Cher, TSO) perform together in an acoustic show called "The Campfire Tour." An intimate vibe with a BIG sound that fans love!
In April of 2019, Brandon signed his first deal as a solo artist with Golden Robot Records releasing the single "Rain Whiskey" fall of 2019 and "Leave" in 2020. Brandon will be releasing his third single "Lost Boys" with Golden Robot on 8th March, 2021.
Links
https://www.facebook.com/bgibbsmusic
https://twitter.com/BGibbsmusic
rhttps://www.instagram.com/bgibbsmusic