New South Wales Aussie Punk Rockers "2Mums" are back with a killer follow-up to recent single "Policeman". It's a no-nonsense slab of angry, in yer face Garage/Punk that shows another string to their ever-expanding canon. "Windows 98" opens with the squeal of a fax machine dialling tone before the song bursts into life with a scratchy guitar part. This then paves the way for a haunting, indecipherable vocal that howls throughout. The 80's Matchbox B-Line Disaster comes to mind as a direct influence, but I'm sure Australia has some bands of a similar vintage to take influence from?! This is quite a departure from "Policeman", yet no less urgent. More underground than radio-friendly but it certainly hits the spot. The raspy, thudding bass is the star turn throughout while an interesting "digital vocal edit" mid-song keeps one guessing as to where it's going to go next. Parity is resumed though as it thuds to its conclusion in an angsty, angry echo of howls.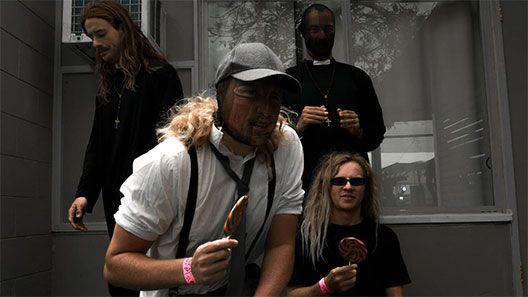 Again at under two minutes, 2Mums have set a template for themselves for delivering short, sharp bursts of Punk energy. And while this song might not dent any mainstream charts, it has an immediacy that might make newer listeners prick up their ears!
Links
https://www.facebook.com/2mumsband
https://www.instagram.com/2mums_/
https://goldenrobotrecords.com/riot-records/2mums
South Coast, NSW Australian punk act 2mums are set to release their new single "Windows 98" via Riot Records on the 22nd of June. "Windows 98" is the follow-up to recent single "Policeman".
Review by Ross A. Ferrone