Canvas, Bournemouth

Local musician Andy Smooth, along with his band Skinny Knowledge have been planning their debut gig long before their debut album "Don't Turn Out The Lights" was released in March. Apart from an atmosphere-lacking live stream during lockdown the band has been unable to play live in front of an audience due to the ongoing pandemic restrictions. After many of the restrictions being lifted, a date of the 29th July was penciled in the hope that it just might happen. Today is the 29th July and people are beginning to gather at the prestigious music venue Canvas in Bournemouth, for what I'm sure will turn out to be a very memorable night.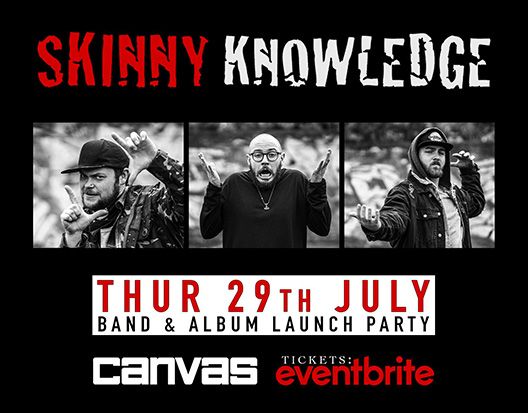 Before the headliners take to the stage we have tonight's support, Dorset's Black Tree Vultures who themselves have had their fair share of disruptions over the last 18 months. They burst out of their rehearsal rooms in June to play their first gig with the new line-up at the Love Rocks Festival in Ferndown. Founder members Jono on drums and Aaron on guitar are a very determined pair who will not let anything get in their way to stop them from creating the music they love. They are now joined by singer Tom Jobling along with Jake Waters on bass and even after only their first gig together, there are positive signs of a real rock n' roll chemistry starting to form. Opening with "Don't Think" the band shows themselves to all be fighting fit and gig-ready to warm up this Bournemouth crowd.
They bring thunderously heavy rhythms, coupled with Aaron's wonderfully creative chord progressions and Tom's commanding vocal. The band is already preparing for their new release and we get a preview of their next single in the form of the melodious "Shadow", along with the popular earlier release "Bitter". Tonight's crowd really seems to warm to them and with live music back on the menu, the BTV has been quick off the mark and has 14 confirmed gigs arranged in the coming months; this will indeed put them in a great position for their very bright future.
One of the things I will take away from this gig (apart from it being one of the first indoor gigs back after the pandemic) will be the everlasting huge smile that frontman Andy Smooth was wearing when he arrived on stage. It's a smile that says a lot about the sort of person he is, live music is and has always been a huge passion and to be able to finally perform songs from his self-written/self-played debut album is a huge relief. Andy has brought together a hand-picked band of highly skilled musicians who really compliment his hugely energetic playing style. There is Rabbie McGowan on bass, Kristian Dluzewski (ex Sirpico) on drums, and newbie Mike Relf on guitar (who only recently replaced Soulcreek/Tarraska's Ben Parker).
Kicking off with "Imagination" the band and the crowd create a euphoric party atmosphere and with the album being out there for quite a while, much of the audience are singing the lyrics dutifully along with the band. Andy has always worn his heart/music tastes on his sleeve and tonight's set has a few well-chosen covers, along with virtually the whole album performed live for the very first time. There are just so many highlights as the band fire out great tracks at the audience like a proverbial machine gun "Alive", "King Of Nothing" and recent epic single "Sayonara" all provide plenty of exciting audience reactions. One of the standout songs from the album is the much slower "Wheel of Love", which was written about the time Andy proposed to his girlfriend Jaz on the big wheel at Winter Wonderland during a romantic trip to London. The track is full of emotion and Andy's brother (from another mother) local singer/songwriter Chris Payn is invited to the stage to add some piano to proceedings. The song is performed with Jaz looking on from the side of the stage and as it ends, Andy jumps down and gives her a loving kiss.
The evening is rounded off with the band trying to leave the stage and the audience demanding an obligatory encore. Before the band start Andy gives a rousing speech thanking all his family, friends and fans for making the night really special. He also says he and the band have a plan to finally put Bournemouth on the map by going out and taking over the world. It's certainly a tall order, but things have started to happen for the band with a string of positive album reviews, along with single plays on Kerrang Radio. There certainly has not been a local band for a long time with this much enthusiasm; drive and such a great debut album, so anything is possible and I for one wish them every success.
Set Lists
Skinny Knowledge
Imagination
Mr. Brownstone (Guns N' Roses)
Alive
King of Nothing
Not Coming Down
Lithium (Nirvana)
Getaway
Sayonara
Wheel of Love (with Chris Payn)
This Time
Breakout (Foo Fighters)
Make a Change
Take the Blame
Encores
Keep Me Out of It
Heavy Metal Interlude
Stand Alone
Black Tree Vultures
Don't Think
Unforeseen
Shadow
Downfall
Here Comes the Man
Bitter
Veins
Pull-Apart
Links
http://www.skinnyknowledge.co.uk
http://www.btv-band.co.uk
Words by David Chinery (Chinners),
Pictures by Lynn Burt (Lynn Frances Photography).