So, those affable fun-Punksters Kid Klumsy are back with their latest EP. These guys are efficient I'll give them that, I've only just recently stopped playing their last record!! Anyway, I digress. The Midlands hardest working quintet are back with a "Fairground-themed" release of five songs that show a swerve into a new direction possibly…? An intro track opens proceedings with some "old-time fairground music", just to set the mood.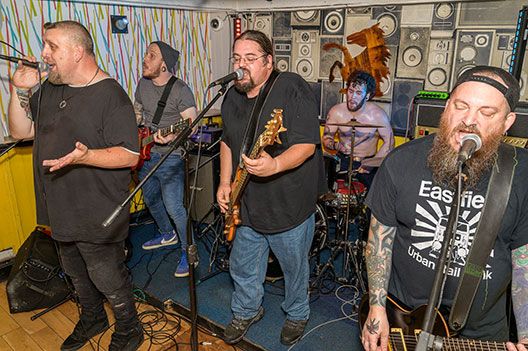 Unsurprisingly track two is "Coconut", as one pictures a song about coconut shies. Well, not exactly but it's Fairground-themed so we know what to expect? The subtle bass is bettered only by some noodling guitar and snare patting on this witty little number about throwing coconuts. "Revolution" has a harder, faster intro than its predecessor until the vocal kicks in and slows down the tempo. The 'slow/fast' formula comes in post-chorus and there's a wonderful chiming guitar part in the bridge. More noodling adorns the second bridge before a wholesome end to proceedings.

"SFW" begins with a rat-a-tat drum pattern and a clanging guitar with a chorus that bristles with anthemic power. The main lyric in the chorus is confusing; "this is my song, it's not your song" – one for the "royalty police" perhaps?! More noodling and power-hitting in the bridge takes it to its conclusion. "Media" begins with another clangy guitar intro, heralding a song steeped in the finest lyrical ballpark of one Dirt Box Disco! Ostensibly a song about boobs and media manipulation; the chiming guitars return in the bridge on this, the standout cut on this collection.

"Rise" begins with a rim shot drumbeat on the final track but soon explodes into life. The additional female vocal has more than a nod to hair metal but Mr. Weab's familiar tones give it a bit of clarity. The guitar and drum ferocity either side of the chorus gives way to a drum-heavy bridge, while the ending is one of pure experimentalism. The outro track is another hilarious fairground edit, in spoken word by the main man.
Kid Klumsy are a hard-working band who continues to knock out ep after ep, I'm guessing the next release will be a full-length album? This collection is a slight diversion from their earlier sound but no less worthy of our attention. Catch them at a venue in your town sometime soon, these guys are perennial tourers.
Tracklisting
Intro
Coconut
Revolution
SFW
Media
Rise
Outro
Links
https://kidklumsyofficial.bandcamp.com
https://www.facebook.com/officialkidklumsy
Review by Ross A. Ferrone.