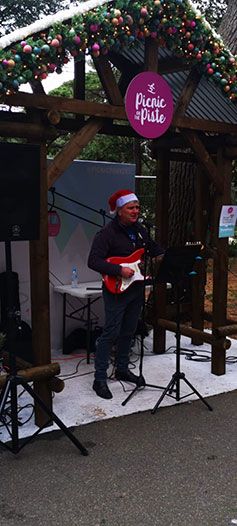 Liverpudlian Singer/songwriter Greg Taafe has joined forces with Hangover Hill piano maestro Matt Black to record a feelgood upbeat Christmas single "It's Always Christmas Day". Greg who relocated to Dorset over 30 years ago can be regularly found performing at local venues around Bournemouth and Poole. He works by day as a Senior Lecturer in IT; has written songs for over 20 years, having entered Eurovision Song Contest twice and currently has five tracks live on Spotify, Soundcloud, iTunes and Amazon Music.
Greg Explains "do you want to feel upbeat, cheerful and positive about Christmas 2021 and especially about life in general after the Covid 19 nightmare has gone and we can 'go to the shops' and ' hit the dancefloor'; because every day will then feel like Christmas Day. As well as improving everyone's mood it's also a fun but powerful reminder of the benefits for all of getting the vaccine. The song also describes and contrasts the misery of Christmas 2020 with the endless possibilities for a great Christmas 2021 and onwards".
The tune opens typically with sleigh bells along with Matt's piano with simple rhythms and guitar. Greg's scouse tinged voice reminds me a lot of his fellow Liverpudlian troubadour Ian Mcnabb of The Icicle Works. The tune features plenty of positive sentiments and I'm sure will be received with mixed responses, depending on which side of the vaccination divide you choose to go with.
Purchase the Track here.
Links
https://www.facebook.com/Greg-Taafe-SingerSongwriter-101245302383247
https://www.youtube.com/channel/UCirGjq1PuOxbRBYiwjNw84g
Words by David Chinery (Chinners).