With only a month or so to go until the Midlands finest play their final gigs before a self-imposed hiatus, they've only gone and done it again – yep, Knackers Yard may be their swansong, but what a swansong!! Twelve cuts of pure adrenaline-fuelled Punk and Rock, with a smattering of melody and some heartfelt lyrics to boot. And if that hasn't whet your appetite enough, then you can always endure my ramblings on all things SV and E! Where better to start then than with opener "I Am A Capsule" – from the opening military-esque drum intro, through to the fuzzy guitars we have become acquainted with over the years; this Midlands quartet delivers another salvo with a definite nod to their heroes Motorhead. The bass throbs in the background, allied to the fierce hitting; it's pretty much one pace – fast!! It's direct, explosive even(sic) with the obligatory noodling in the bridge and cussing aplenty right through to its conclusion.
Title track "Knackers Yard" with its hilarious "na na na na" intro is a story of being old before one's time. Scratchy chords match the powerhouse drumming, while the dual vocals set us up for (yep, you guessed it) more noodling! Industrial Punk at its most humorous with a catchy chorus to boot – "Alcohol, and Pain Killers…", yep, we've all been there!! And now 'It's All Kicking Off', down the pub no less. Fuzzy guitars in the intro are somewhat at odds with a much more audible vocal. More tales of modern life wrapped up in a classic two-minute Punk song. "Job Opportunity" is a wonderful ode to "cleaning up after graffiti artists" – 'Local Community, Job Opportunity', such word smithery! Pacey and powerful throughout, more power hitting with a short noodly bridge and a humorous aside to punishment – catchy as fuck, it's classic SV and E.
"Madhouse" goes down the Heavy Rock route in the intro, dark and brooding. Crunchy guitars and heavy snare bashing camouflage a throbbing bass, giving centre stage to the intelligent vocals. The bridge has more than a nod to Metallica before noodling its way back through the verses. The second bridge keeps with the heavy guitars while the lyrics come across as somewhat personal – biting in places. Whether autobiographical or pure fiction, they hit the spot while darkening the mood. Overlong in duration (IMO) but bluntly makes its point. "Menky Man" is Thrash to its core – the ferocious drum intro and pacey vocal to match become almost indecipherable due to the sheer pace of the song. Mid-song it takes a strange detour with a comedic vocal offering that dissipates to a fadeout (of sorts).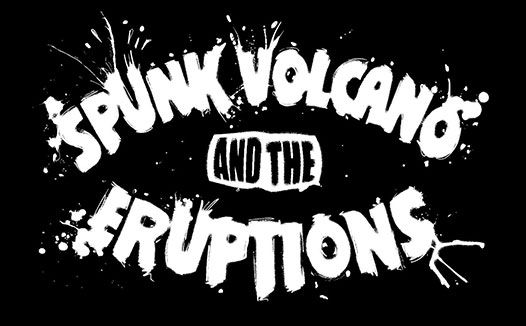 "Mordrake" is the slow, melodic cut on this album. There's a curious gloomy theme in the vocal that elevates mid-song with more than a nod to Ozzy (Osbourne). It delivers that dark, gothic, and haunting overtone. Despite the vocal layering and melody I once again find it overlong during the "if I die, you die" chorus, but I guess that captures the overall feel of the lyrical content. Once more they employ the fadeout finish which works perfectly here. On "Pit Bull Facelift" the buzz saw guitars and ferocious drums are matched by the explosive vocals. Mr. Volcano explodes into life during verse and chorus – a song like this will either evoke frenzied moshing or clear a room?! Steeped in The Exploited territory it's an all too familiar lyrical observation.
"My Tears Get Washed Away" returns to melody – it is (dare I suggest) a Pop song. Ok, so the musicianship is Punky but the lyrics remain sugary-sweet. The bass throbs in the bridge while the familiar "woah's" fit the song perfectly, right up to its sharp conclusion. 'Morphine' returns to power with vomiting guitars, frenetic drum power, and more Lemmy-inspired vocalising. Hard, heavy, and powerful; the drums are the star turn, keeping pace with the vocal screams – another two-minute epic from this fine collection. On the final track "Dead and the Mirror" Mr. Volcano shows a quieter, more measured, and honest side to his vocal and song smithery. Painfully heartfelt and brutally honest, the vocal is a neat fit to the chiming guitar notes; slightly haunting and deep.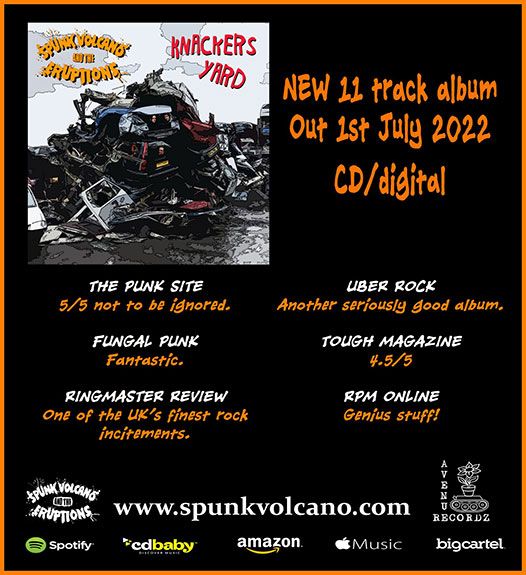 The CD version of this album has a bonus track entitled 'Shit Stirrers and Scaremongers' – I'll hazard a guess that it's written about the whole Covid situation and our current Government being in his sights. It's delivered in the true SV and E spirit of fast, fuzzy guitars; power hitting, and thudding basslines. A wonderful melee of Rock and Punk styles, the way they do it best. Story-telling lyrics, set to a brooding tune. A big noodly bridge (no less), the echo-fed vocals match the clangy guitars right up to its conclusion.
And there we have it folks – twelve stonking cuts from this fine Midlands band, going out on a high!! Like all great bands, they'll be back. When anyone's is guess but if this is the end (for now) then let's go mad at one of the few remaining shows; dance like loons and pretend it's 1977!!!
Track listing
I am a Capsule (Explicit)
Knackers Yard (Explicit)
It's all Kicking Off (Explicit)
Job Opportunity (Explicit)
Madhouse (Explicit)
Menky Man (Explicit)
Mordrake
Pit Bull Facelift (Explicit)
My Tears get Washed Away (Explicit)
Morphine (Explicit)
Dead and the Mirror
CD Only Bonus Track
Shit Stirrers and Scaremongers (Explicit)
Guitar/vox – Spunk Volcano
Drums/vox – Maff Fazzo
Bass/vox – Joey Strange
Guitar/vox – Scott Bones
Extra guitars & vox – John Kettle
Links
https://www.spunkvolcano.com
https://www.facebook.com/spunkvolcano
Review by Ross A. Ferrone.