"Fuck The Haters" is a bold call-to-arms, to hold a potent middle finger to everyone and anyone who feels it necessary to bully other people; be that physically, face to face, or keyboard warrior. Baz sums up the spirit of "Fuck The Haters": "Simple song, simple message: fuck the haters, fuck 'em all. Do what you want, wear what you want, be who you want to be, and be proud about it. I know this kind of thing has been covered in songs before; but I wanted to strip it back to its most basic, powerful form. Yeah, swearing ain't for everyone; but sometimes you just gotta stand up and let rip!

Massive Wagons are not one's to hold back and their new single provides them with a much-needed platform to release their frustrations about bullies and bullying. It is sadly something that is a feature in all walks of life, making the sufferers life hell giving the perpetrators some sadistic pleasure. The track leaps out of your speakers with a barrage of hard-hit drums before Baz's unmistakable loud and proud vocal kicks in, along with a wall of melodic guitars. The lyrics give great hope "We'll be singing till they're all gone, Fuck the Haters", a chant that is sure to arouse the consciences of their audiences. You can just hear 1000's of fans chanting the lyrics back at the band with their middle fingers held high in the air. The song lets off a fair amount of steam from a band whose previous songs are more than happy to tackle and talk about social issues. The track is the first release from the band's 6th studio album "Triggered"; which is out on the 28th of October 2022 via Earache Records. The album was recorded at Backstage Studios with producers Chris Clancy (Machine Head, Megadeth, Amon Amarth) and Colin Richardson (Funeral For A Friend, Slipknot, Sepultura), the production force that was also behind 'House Of Noise'.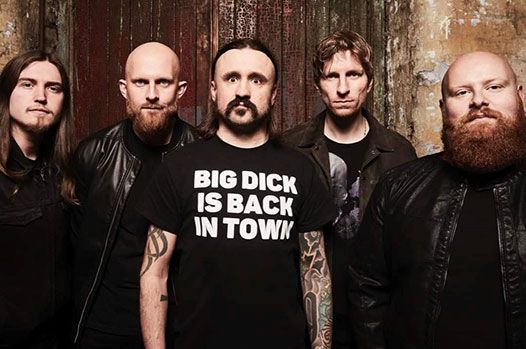 With "TRIGGERED!" Massive Wagons have crafted an all-new album of heavy-duty rock'n'roll that stays true to the band's influences, whilst also pushing past the boundaries of what fans have experienced on previous albums. From twists of "tough Punk" to twinkles of "yacht Rock"; keeping frontman Barry "Baz" Mills' iconic lyricism and the band's electrifying no-nonsense Rock recipe, the album proffers tracks which will prove to be huge anthems in the live arena.
Track Listing
Fuck The Haters
Please Stay Calm
Generation Prime
A.S.S.H.O.L.E.
Skateboard
Gone Are The Days
Triggered
Giulia
Germ
Never Been A Problem
Big Time
Sawdust
No Friend Of Mine
Pre-Order the Album here.
Massive Wagons are
Barry "Baz" Mills – Vocals
Adam Thistlethwaite – Guitars
Stephen Holl – Guitars
Alex Thistlethwaite – Drums
Adam "Bowz" Bouskill – Bass.
Links
https://www.massivewagons.com
http://www.facebook.com/MassiveWagons
Article By David Chinery (Chinners)