I'm sure you have heard of Lewis Capaldi, Peter Capaldi and the famous Ice Cream making family from Liverpool, however the next Capaldi to make your acquaintance is the Dorset-based singer/song-writer Nick Capaldi who has recently released his latest album "You and all the Seasons". He has spent seven months in the studio making this record, which shows lots of diversity and plenty of musical creativity. The album was recorded at his own studio Echotown in Dorchester; which he runs with his wife and manager Grace Capaldi, along with their four terriers in the Dorset countryside. The two of them can be seen together on the albums front cover taking in a memorable moment amongst the picturesque landscape.
Session musicians such as Albert Lee, Robbie McIntosh, BJ Cole, Billy Nicholls, Ian Jennings and Paul Beavis joined Nick as they all breathed life into these new songs. Nick is heavily inspired by artists such as Blur, Ryan Adams, Brian Wilson and The Beatles. On his new album 'You and all the Seasons', his styles range from intricate ballads, straight out Rock, Reggae and a strong seasoning of cheeky Britpop; which Nick believes is about to make a a huge resurgence. After being inspired by Britpop, Nick purchased a guitar that he would write over 300 songs with over the next two years. Crafting lyrics and melodies had become an obsession.

This 15-track double album is as eclectic as it is diverse. Kicking off with the irresistible "Bubblegum Heart", the song pays homage to Blur's notable Brit Pop era with a punchy brass section along with humorous, tongue in cheek lyrics. After that we are then treated to "My Friend the Wall", a track that has a distinct Country twang to it with some distinctive pedal steel and Wurlitzer; coupled with some almost childlike simple but effective lyrics
"The Perfect Reason" instantly reminds me of Lennon's "Woman", a beautifully crafted track that features some delightful strings; along with a guest appearance from Richard Digance on acoustic guitar, with some understated electric guitar from Robbie McIntosh. "Sunnies and Guitars" is a track that was influenced when Nick saw an interview with Bon Jovi's Richie Sambora. Nick explains "years ago I read an interview with Richie Sambora where he said "you can never have too many sunglasses or guitars. That stuck in my head for some reason and now it's the theme of the 1st single to come from the album". The song gently meanders through the ebbs and flows of some great instrumental, with the chosen musicians making their mark with this standout track from the album, with an incredibly infectious streak and for the Si-fi geeks even Star Wars gets a mention.
Next up is "Lovely People" and the track starts positively with a compliment and Nick shows off his Blur meets Beatles styling with an infectiously, well written number featuring some lovely heartfelt lyrics. "In My Shoes" is what I would call a guitar players track, there are plenty of creative twists and turns to enjoy.
"Grace" clearly is a profound dedication to Nick's beloved wife, he explains " when I was thinking about a title, I noticed that Lewis Capaldi had put out a song out called Grace, I felt like he'd already stolen my name (I know of course he didn't) and now this?! It made perfect sense to simply title it "Grace". The track features some wondrous delicate melodies from guitar, along with impressive string arrangement. The songs build and build, with its musical layers and chorus adding to its enchantment.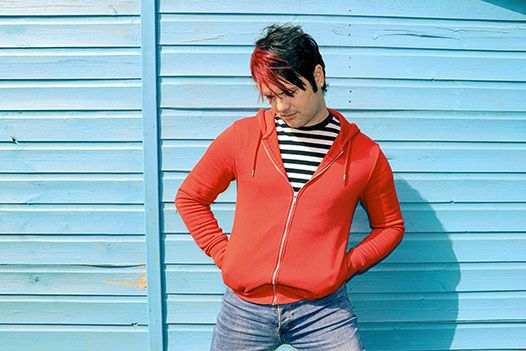 The next track is somewhat of an intermission between the two halves of the album, it reminds me of something that Madness might do – remember their track from the album "Seven" "New Delhi"? The keyboard bounces along merrily giving details of a bus ride to "Bombai", there is a definite nod to Graham Coxon in here too.
"Patience and Peace of Mind" has an atmospheric Americana feel with an injection of Blues, a resonator guitar being played sat on an old rocking chair of the porch of a white colonial house to start. With a more conventional electric guitar sound following with some nice creativity, producing a big sound providing plenty for the senses to enjoy. "Rough Edges" is notable for its unique percussion and 70's style funky bass, while "You and all the Seasons" sees a return of the slide guitar on a track that meanders its way through many musical twists and turns.
"Change Your Hat" starts with some intial acoustic guitar, before rolling into a cool Reggae vibe with some nice percussion; coupled with some brass elements showing yet another surprise on this record that seems to have so many different textures to offer. Nick explains that "it's about needing help from a friend, but you know they would have to tap into their alter ego to do so. Maybe like a Bruce Wayne/Batman thing".
"Roll On" was the first song that was record for this album. Nick takes up the story: "I'd asked Albert Lee to play on a track, but I didn't have one written so my wife said; "Alberts here in 2 weeks, you'd better write something" so I imagined playing with Albert and got a vibe for the song. When Albert arrived at the studio I said, "I wrote the song with your style in mind." He said, "I should hope so", it is certainly one of the standout numbers of the collection; it's not often an artist gets someone of Albert Lee's quality to guest on their album. It is clear the song is a corker and Albert's considerable talents are clearly not wasted with some great collaboration work with Nick.

The penultimate track is "As She Lives and Breathes", this time we are treated with another welcome curveball; the chuckle of a banjo that works beautifully across the backdrop, coupled with some subtle percussion and this is joined by some melodious fiddle. It is one of those memorable tracks that you are unable to shift from your head after listening to it. The final track "It's Only Losing" is a line that you should never say to a football fan, they might not come back with a polite reply. Nick takes a different angle to it with the 'if at first you don't succeed, Try, try again'. A fitting positive ending that gives a message of hope to anyone who hears this
It's been quite a journey peeling back the layers of this album and even after several listens, I still think there is more to discover as there's so much here to enjoy. The album has clearly been a labour of love and the amount of hard work that has gone into creating this cannot be understated. Also the amount of quality musicians that Nick has brought in to help create this is somewhat astounding, though when you listen to it you will hear just what a great set songs they are.
Track Listing
Bubblegum Heart
My Friend the Wall
The Perfect Reason
Sunnies and Guitars
Lovely People
In My Shoes
Grace
Bombai
Patience and Peace of Mind
Rough Edges
You and all the Seasons
Change your Hat
Roll On (featuring Albert Lee)
As She Lives and Breathes
It's Only Losing
Musicians
Nick Capaldi: Acoustic Guitar and Vocals
Robbie McIntosh: Acoustic and Electric Guitar
Grace Hancock: Piano
Jennifer Crook: Harp
The London Community Gospel Choir: Choral Vocals
Nick Squires: String Arrangement
Ian Jennings: Upright Bass
Jody Linscott: Gong
Paul Beavis: Drums
Album Notes
Produced by Nick Capaldi
Engineered and Mixed by Gareth Matthews at Echotown Studio, Dorset
Additional Engineering by Grace Capaldi, Gwyn Mathias and Stuart Bruce
Purchase The Album here.
Links
https://nickcapaldi.com
https://www.facebook.com/nickcapaldimusic
Words by David Chinery (Chinners)