News: The Wandering Hearts Announce Two Local Dates
on
January 26th, 2020
at
19:58
At The Lighthouse In Poole And At The Brook In Southampton

Harmony-laden Americana band The Wandering Hearts play two local dates at the Brook in Southampton on 22nd April and at the sheling studio in the Lighthouse, Poole's centre for the arts, on Thursday 23rd April. Having burst onto the scene in 2018 with their debut album Wild Silence the deluxe edition, featuring eight new, live and reimagined tracks, followed late last year. The band was discovered just 30 minutes after uploading their first track to Soundcloud and signed to Decca Records before winning the coveted Bob Harris Emerging Artist Award at the UK Americana Awards.
Personally invited to the US by country music legend Marty Stuart, The Wandering Hearts became the first UK band to debut at two of Nashville's most prestigious venues – The Ryman Auditorium and The Grand Ole Opry – in the same week. Receiving a rapturous welcome and standing ovations, they were invited back to the Opry the following week, after a trip to Memphis to support Marty Stuart at Graceland. Live recordings from this show feature on the deluxe edition of the album.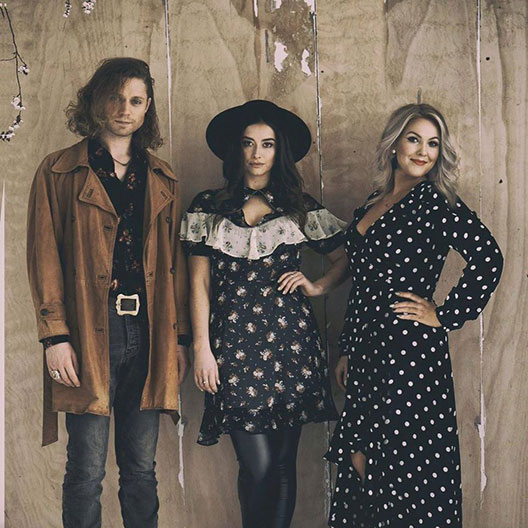 Breaking all genre boundaries, The Wandering Hearts didn't set out with a sound in mind and nor do they have one now. They'll take the Americana tag because it encompasses their influences – pop, rock, blues, folk and country among them, filtered through their British roots – but they write songs for fun and that shines through.
"We love a dark lyric," laughs AJ Dean. "We have so many of them that we sometimes play what we call our "death" set ñ all songs with sad subject matter like break-ups and dying. Most of them are upbeat, so it's fun, but if you listen closely, you'll hear we're obsessed. Why? Because we enjoy writing about deep feelings but couching them in catchy tunes."
There are two support acts ñ Scottish artist Rosanna Reid, who has been nominated for an AMA Award this year – and French-Canadian singer Bobby Bazini.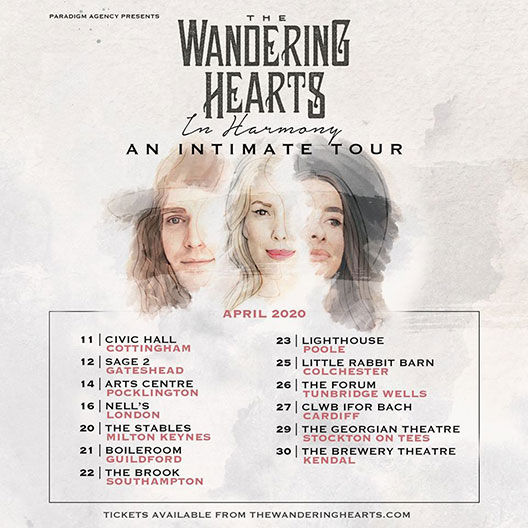 Video


Links
http://www.thewanderinghearts.com
https://www.facebook.com/thewanderinghearts