News: Wreckless Eric Announces Short Tour
on
January 29th, 2020
at
20:59
Including an Intimate Gig at Daveena's in Poole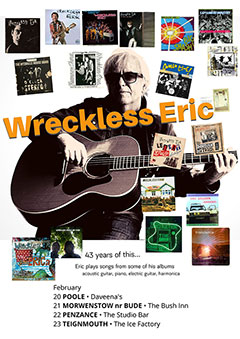 Thursday 20th February is returning to Dorset for an intimate gig at Daveena's Cafe in Parkstone Road, Poole. Eric has put together a short southern tour where he is playing a set spanning his 43-year career playing songs from a large selection of his albums. Tickets are very limited and cost £15 + booking fee of £1.50 and can be purchased here.
It's been over forty-three years since Eric Goulden exploded onto the scene with a silly name and a great and enduring debut in Whole Wide World. Though he didn't so much explode as splatter all over it. He dried up in the glare of the arc lights and spent the ensuing forty-three years growing up in public and running away from himself, his career and his catalogue.
Forty-three years masquerading variously as Wreckless Eric, Captains Of Industry, The Len Bright Combo, Le Beat Group Electrique, The Donovan Of Trash, The Hitsville House Band, with a return to Wreckless Eric, a ten year / three-album detour in the husband and wife duo Wreckless Eric & Amy Rigby, and then back to plain old Wreckless Eric for his crowning achievement, three albums in quick succession: America, Construction Time & Demolition and his latest, Transience from 2019.
He'll tell you itís a forty-three year trail of broken strings, sharded picks, blown speakers, shagged-out amplifiers, and enough tapes and notebooks to fill the lounge diner of a medium-sized family house.
Twenty plus albums and a constant worldwide touring schedule say otherwise.
Now, after years of refusing to bathe in the glow of nostalgia, the artist also known as Wreckless Eric has decided to explore and embrace his catalogue. No razzamatazz, just the man himself with an acoustic guitar performing the songs as they may have been when he first wrote them. The hits, the deep cuts, the also-rans and the plain bizarre, with forays and interludes on electric guitar and piano.
Best to expect the unexpected. We're even doing a t-shirt!

Daveena's
133 Parkstone Road
Poole
Dorset
BH15 2PB
https://www.facebook.com/daveenacafe
Links
http://wrecklesseric.com
https://www.facebook.com/wrecklesseric