EP: "Dinner By Gaslight" By Missing The Scene
on
January 29th, 2020
at
20:50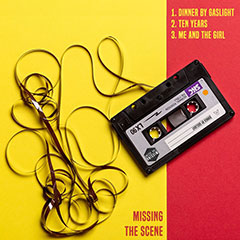 Reading Alt/Punk quartet Missing The Scene have a new three-song EP out this month as they attempt to foist their output on a wider audience. Lead track "Dinner By Gaslight" has a clangy guitar intro which is not unlike Buzzcocks, before the vocal comes in kicking life into the song. A few harsh growls in the backing vocal beef up the chorus on this pacey little number. And with a rat-a-tat drumming style, a host of influences suddenly come to mind. The lead vocal (Rachel) at times sounds pained, one wonders if this is a break-up song? The bass "picking" style is an interesting one, unlike anything I've heard before. The song's ending, however, is a complete surprise – it is more like a middle 8 tagged on the end, that said it's a good fit.
"Ten Years" has a chiming guitar intro (Paul) alongside Robert's (drums) intricate hitting in the background. The title and corresponding chorus once again suggests regret – a recollection of not too fond memories. It's a decent enough song but the lyrical negativity I'm afraid courses through it. The bridge is great; chunky guitars and bass and again another great ending, albeit with a tortured lament. "I wasted ten years of my life…" – you get the picture!!
"Me And The Girl" is the final track, replete with Jim's clicky bass and Robert's power-hitting meeting head-on with the rangey guitar. Rachel's now bigger vocal comes across loud and clear while a few "Woah's" in the background give it depth. Again another great bridge – chunky guitar parts give way to a little noodling and more hard pounding of the skins. Rachel's vocal then takes over, becoming the main event. Once again the vocals are pained yet honest, one wonders if they are semi-autobiographical or just plain fiction? This time it's a much sharper ending.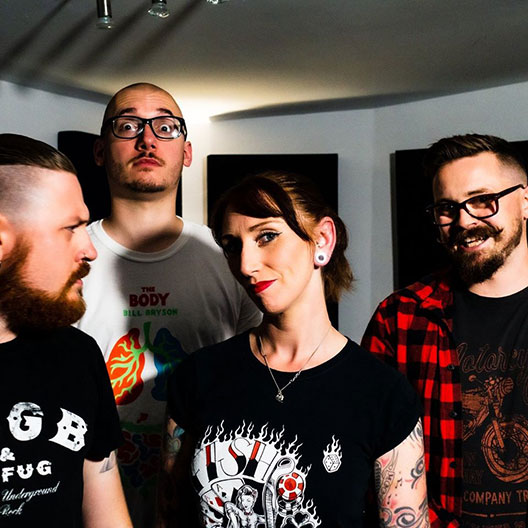 It's hard trying to stand out in a crowded genre and while they describe themselves as Alt/Punk, Missing The Scene are (for me) on the outskirts of Pop/Punk. It would be easy for me to namecheck the influences but they are quite subtle. By all means, take from your heroes, but always attempt to be unique. This is a good start point for this band so we shall wait and see where their output takes them. On the artwork side of things however, the cover is simply great – it's all about standing out!!
Band Members
Rachael – Vocal
Phil – Guitar
Jim – Bass
Robert – Drums
Link
http://www.missingthescene.uk
Track Listing
Dinner by Gaslight
Ten Years
Me and The Girl
Review by Ross A. Ferrone.