Jinder aka Dorset's Phil Dewhurst is a truly remarkable non-compromising independent artist, that has shown himself to be a singer/songwriter of the highest calibre over and over again. The numbers from his 23-year career tell the story: 11 albums, 5 record deals, over 3500 gigs, 4 million streams and over 100,000 record sales to date. His disdain of scheming within the music business has led him to bravely walk away from a million pound 4 album deal with Sony/BMG after delivering just one album and before being paid anything. He also rejected a lucrative contract offered by Polydor in 2016 in favour of his own cottage industry independent label Din Of Ecstasy, where he has complete control of all his output. February sees the release of a piece of work that has been nearly five years in the making and the follow up to 2015's "Traditional Dark". "The Silver Age" is a 10 track, forty-minute journey through Jinder's exquisite musical abilities.
It was put together with the help of long-time collaborator Peter James Milson who produced the album. The album was recorded in a mixture of locations with the brass, steel guitar and woodwind parts being cut in Nashville; the drums in London, the orchestral parts in Manchester and the vocals, guitars, bass, keys and sound design completed in various different locations; mainly producer Pete Millson's studio in Bridport and Jinderís home in Dorset. The album features the previously released single "Overthinkers Anonymous" which peaked the download charts at no 14. The album's name is taken from an unusual and quite unpredictable source; the influence of Russian poetry with poets like Mandelstam, Pasternak, Bryusov, Blok, Mayakosjky amongst others. The words wrote during the Silver Age left their mark on Jinder, thoroughly captivating him after he was encouraged to read them by late friend Jackie Leven. With the Ghosts of those Russian poets sharing their words from beyond the grave, the album had its title before even a note was played or a word was written. Once you heard the album in its entirety you will understand why it's just the perfect title.
Jinder explains The Silver Age has effectively been five years in the making, as I started writing and demoing material for it after completing "Traditional Dark". I really wanted to make a classic sounding record that was more sonically evolved than my last couple of releases and something that was more accessible and less the work of the grumpy, ex-industry hermit that the last couple of albums represented". "The entire record was facilitated by the generosity and kindness of a team of folks who were willing to pre-order the record and pledge varying amounts to crowdfund the project. This was my first foray into crowdfunding and I was utterly astonished by the enthusiasm and kindness of everyone involved".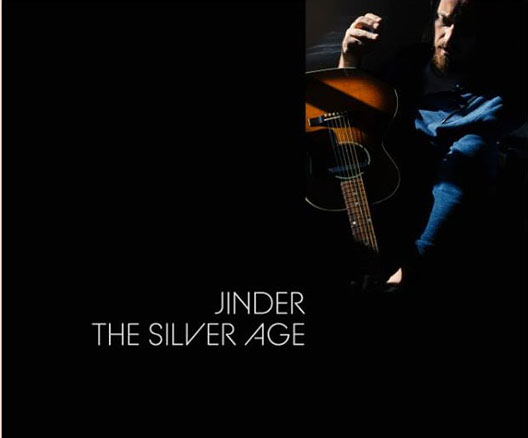 The album opens with atmospheric "Wilder Winds" where Jinder's voice mesmerises with lyrics that intrigue and arouse curiosity. Its melodic guitars combine with keyboards to offer a gently meandering track that is clearly Jinder, with a distinct change of direction from his previous couple of albums. "S.A.D Light" opens with some upbeat acoustic guitar; before the electric joins, coupled with catchy rhythms. His voice reminds me here of Scottish singer/songwriter Steven Lindsay of 80's band "The Big Dish". "The Woods Are Full Of Wardens" holds its cards close to its chest with a tune taking a line from Jack Kerouac's "The Vanishing American Hobo", the notable keyboard work merges with significant strings to create something quite unique.
During the five years that the album was being brought together there were over 100 songs demoed which were finally whittled down to the ten we have on the album and even during the recording process, Jinder was still writing up to the final day of recording. The fruits of this come in the form of "I Still Believe" and "Piano Fire", two tunes which show the benefits of thoughtful collaborations. "Train To The Sky" features a soulful heart with some lovely harmonization, along with Jim Hoke's impressive saxophone work. "Overthinkers Anonymous" Jinder explains "the song is about the 21st-century disease of self-sabotage through procrastination. Too much of life, love, and opportunity blows by in the wind whilst we sit and ponder whether we should open the window and let it in". It's a lovely radio-friendly tune that has a "Wonderwall" style acoustic start before a wall of 80's style synths; coupled with effect-driven guitars, infectious rhythms and a chorus that will weave its way into the happy side of your cranium.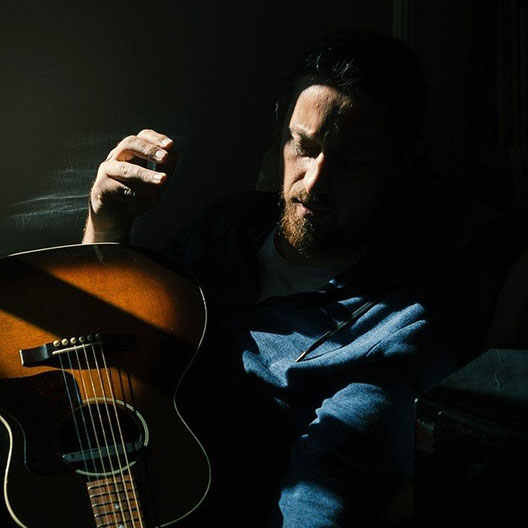 'Itinerant's Hymn' has an infectious backbone of piano, coupled with very prominent basslines which are brought together with a sterling vocal performance showing the creator's singing at his very best. The penultimate tune "Diving Board" describes a big moment in time when a leap of faith is required, a beautifully written song featuring words that can be taken in many ways. The final number "A Day's Grace" ends the record gently in a very thought provoking way, with the opening line "you gave me a day, when you died, time to review what you left behind". The acoustic and emotive electric guitar, along with church-style keys create a wonderful ambience on this impressive closer. This album needs to be listened to multiple times to fully immerse yourself in what has been created; there are so many aspects to take in, appreciate and enjoy.
The album is out on the 21st February on the Din Of Ecstasy label.
Track Listing
Wilder Winds
S.A.D. Light
The Woods are Full of Wardens
I Still Believe
Piano Fire
The Train to the Sky
Overthinkers Anonymous
Itinerant's Hymn
Diving Board
A Day's Grace
Video
Links
https://www.facebook.com/JinderSongs
Words by David Chinery (Chinners).