News: Upton House Concerts Just Announced 22nd-24th May 2020
on
February 21st, 2020
at
19:17
featuring Space, Republica, Katrina from Katrina & The Waves, Sonia, Doctor and The Medics, Jive Bunny and the Mastermixers along with top Tribute Acts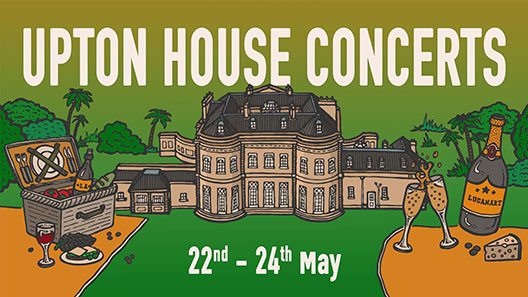 LEGENDARY Britpop bands Space and Republica will be joined by eighties chart toppers Katrina and the Waves and Dr & the Medics to headline a weekend of brilliant live music at Upton House over the Spring Bank Holiday.
The three-night festival with a guaranteed good times soundtrack aims to reinvent the tradition of picnic party concerts on the front lawn at the Grade II listed Georgian mansion with its 130-acres of parkland, grounds and formal gardens within the Holes Bay Nature Park.
It opens on 22 May with "Legends Friday", a night of top tributes to Queen, the Rolling Stones and Amy Winehouse; with "Britpop Forever" on Saturday starring Space and Republica with support from Stone Roses, Stereophonics, Oasis and Blur tributes; and closing with "Absolute 80s Sunday" in the company of Katrina and the Waves, Dr & the Medics, Jive Bunny and Sonia hosted by DJ Pat Sharp.
"We're thrilled to be bringing some of the best and biggest chart acts from the eighties and Britpop era to Upton House," says festival director Ben Dyas.
"It's an amazing location with a stunning backdrop and beautiful grounds so whether you saw these legends the first time around or not, the invitation is there for party people to bring their pals and bring their picnics and get down on the front lawn."
Weekend highlights are sure to include Space revisiting their best-known hits "Neighbourhood", "Female Of The Species" and "Begin Again" alongside material from their brand new album Music For Pleasure Music For Pain, due out in May. Meanwhile, Republica returns to Poole for the first time since they played Mr. Kyps in 2010 with iconic frontwoman Saffron driving top five hits such as "Ready To Go" and "Drop Dead Gorgeous", as well as more recent live favourites like "Christiana Obey".
Last year more than 10,000 tickets were sold for music events at Upton House and early bookers for Upton House Concerts can take advantage of a very special launch offer with the first thousand three-day tickets on sale now at just £39 – a saving of £30 on the full price. There are further offers on day tickets for adults and children and drinks bundles that include bar tokens with tickets.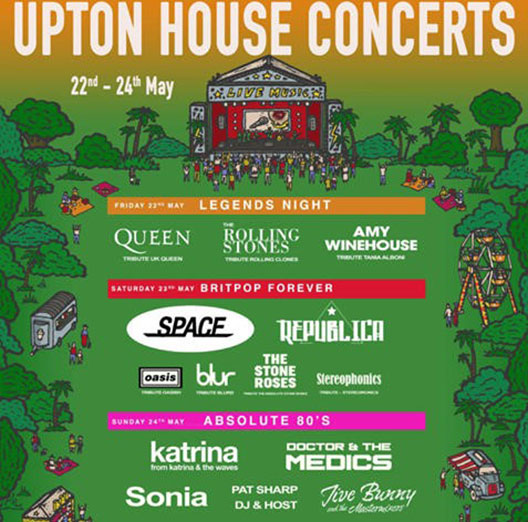 Line Ups:
22nd May- Legends Night
Queen Tribute, Rolling Stones Tribute & Amy Winehouse Tribute
23rd May- Britpop Forever
Space, Republica. Oasis Tribute, Stone Rose Tribute & Stereophonics Tribute
24th May- Absolute 80's
Katrina of Katrina & The Waves, Doctor & The Medics, Sonia, DJ Pat Sharp & Jive Bunny and the Mastermixers
Purchase Your Tickets here.
Links
https://uptonhouseconcerts.com
https://www.facebook.com/theuptonhouseconcerts