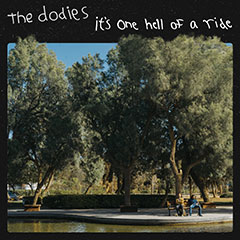 In the depths of the southern desert of Israel dwell The Dodies, a garage rock duo who stretch the dimensions of what is expected of a two-piece. While frontman Yoni Avittan provides lead vocals and guitar, drummer Ran Aronson sings backing vocals whilst simultaneously playing bass lines on a keyboard with one hand and the entire kit with the other. You'd be forgiven for thinking that this level of multi-tasking may result in simplicity, but you'd be sorely mistaken. Alongside co-producer Ron "Bumblefoot" Thal (ex-Guns N' Roses) the band have focused on maintaining authenticity and integrity as they produced their debut record, "It's One Hell Of A Ride".
Opening with the cartwheeling, no-nonsense approach of single "Boiling Point", Aronson's ability as multi-instrumentalist borders on bewildering, as he brews up a storm of choppy beats, infectious synth grooves and fitting falsetto to accompany the tenacious vocals and sharp riffs of his partner. Although the sprightly guitar and beguiling melodies in their songs are upbeat, their lyrics revolve heavily around depression, alienation and rage, which is apparent in "Sell Out" as Avittan questions whether he should have stayed in the uterus. The soaring, striding melodies of "Alien" offer a welcome change of pace, as soaring vocals and vintage synths sit pleasantly in the mix.
The sinister "Suleyman" brings an air of muscle to their sound, as marching riffs and tribal chants plead for attention.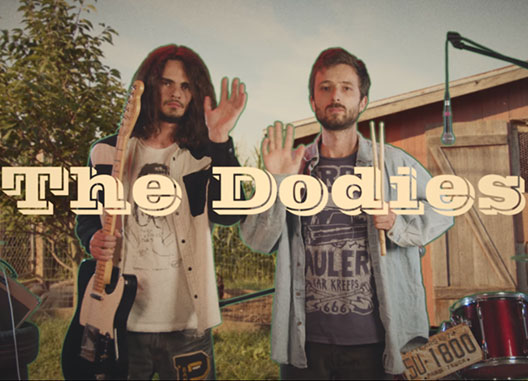 While there's plenty of determination in this record, there are glimpses of vulnerability through "Circles" and "Suburban Nights" as the heat simmers and creates a gentle, yet saddening period of reflection; the lyrics poised around seclusion and a sense of lost identity. It's crippling but offers an insight into the strife that artists like Avittan face in their ventures to find purpose. The previous pace gradually picks up as "Comfort Zone" serves as a phoenix rising from the flames, before "Riot" provides us with another adrenaline-inducing anthem in the same vein as early Green Day. The breezy combination of jaunty tunes "Sweet Solitude" and "Stuck" raise spirits before the mellow sounds of "Buffoon" and "Dysthymia" continue to push the dynamics, the latter harking back to vintage Nirvana. Closing with the aptly named 'Goodbyes' we find Avittan now alone, his candid vocals accompanying stylish acoustic guitar in a stripped back confession.
The Dodies have captured the raw essence of youth in a captivating debut album. Their desire to deliver authenticity and integrity has well and truly been achieved, as this collection of songs beckons bigger and better things to come for this excitingly ambitious duo. I hope to see them on the festival circuit across the UK in the near future.
Track Listing
Boiling Point
Sell Out
Alien
Suleyman
Circles
Suburban Nights
Comfort Zone
Pussy Riot
Sweet Solitude
Stuck
Buffoon
Dysthymia
Goodbyes
The Dodies are
Yoni Avittan – Singer / Guitarist
Ran Aronson – Drummer / Synth Bassist / Backing Vocalist
Video
Links
https://thedodiesband.com/
https://www.facebook.com/TheDodiesBand/
Words by George Fullerton.