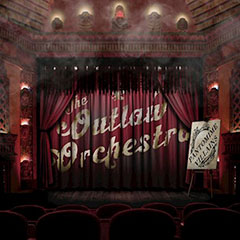 Southampton rednecks The Outlaw Orchestra unleash their debut album Pantomime Villains on the world this month. The title is very apt; as if you have seen them perform live you will already know that their set includes plenty of theatre and comedy, to match their self-titled "Heavy Grass" style of music. They describe themselves "as if Johnny Cash was on a boozy bender and picked up a banjo, plugging it through ZZ Top's Billy Gibbons amp!". There is a double bass topped with an Alligator skull; solid soul thumping percussion backing up a front end of driving slide guitar, topped off with a banjo and lap steel. The four-piece have already released their "Laughing All The Way To The Gallows" and "Back To Georgia" EP's, announcing their arrival on a busy Hampshire music scene. Their crossover styles have been welcomed at a host of Festivals including Ramblin Man's Rising Stage and a hometown set at Southampton's Nozfest. They have shared the same bills as The Darkness, Brothers Osbourne and supported Kris Barras on his 2018 UK tour.
The boys went in and recorded the album at The Old Chapel Studios in Chichester with the production/engineering taken care of by David Evans and Paul Burton. As the studio suggests it is situated in an old church and as you can imagine the acoustics in the place are perfect. The band called on the services of one of the best mastering engineers in the UK; the legendary "Pete Maher" who has worked with huge acts like U2, The Gallagher Brothers, Depeche Mode, Rolling Stones, the list is endless.
The album kicks off with opener "Take A Bow" which starts our 10 track journey with banjo and electric guitar, combining to significantly upbeat rhythms. The bizarrely titled "Chicken Fried Snake" is next and the band show us some of their quirky humour, along with their considerable musical skills. "The Hanging Tree" is a lovely slice of Bluegrass Americana, a romp and a stomp through some infectious toe-tapping rhythms. It conjures up thoughts of the General Lee being chased along a dusty old track in Hazzard County, with police in hot pursuit. The pace is slowed a little by "Whiskey Drinking Liar", with singer David Roux taking on the alter ego of this heavy drinking womaniser. "Arabia" is a tune boasting influences aplenty; there is a slice of '70's Southern Rock, coupled with all the trappings of American Country and Hillbilly, along with the bands very own original influence.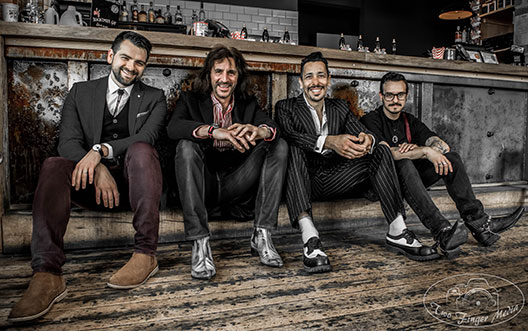 The album is a complete pick n' mix of styles and the "Jumpin Jive" gives us a very 50's feel with its backbone being the constant double bass of Alex Barter. David shows off his guitar skills with a great piece in the middle which sounds a bit Status Quo, before resorting back to the 50's style. It all works so well together making for one great tune, which of course we'll get all up and dancing. "It Happened Again" has a Country drool with some lovely slide , it tells the story of a profligate chap who liked to spend his ill-gotten gains on guitars. The lyrics are really cleverly put together and humorously tell the tale. Things are turned around once again when were are treated to some flamenco-style guitar, coupled with the lovely chuckling banjo of Pete Briley on "Voodoo Queen". It's Cajun meets European style makes for an original tune that shows the band's creative juices working overtime. It all ends with an infectious stomp towards the end.
"Too Much Willie Nelson" is possibly my favourite song lyrically, the band hilariously tell the tale of a musician who has "Too Much Will Nelson and Can't Play Johnny Cash". Willie Nelson is one of the most famous American Country musicians, famed for once smoking a joint on the White House roof while President Jimmy Carter was in office. The final song of this debut album "Send Some Whiskey Home" features a lyric most dog owners can totally understand "I wish you love me like my dog does", which references the canine's unconditional love for their owners. This is not always the case from a husband/wife or a partner. It's another Americana-drenched tune full of cleverly put together slide guitar parts; along with some nicely added additional vocal from Trish Burke Manser at Buzztone Studios, all the way from Long Beach in California (USA).
David, Ryan, Alex & Pete are a foursome who were just meant to play music together, their skill in abundance are made crystal clear on this album. It's a debut that shows the potential to give them a huge leap forward in terms of their audience and respect from their peers. With morale in the UK at an all-time low at this time 'Pantomime Villains' will bring some much needed humour and light into people's lives when they most need it.
Track Listing
Take A Bow
Chicken Fried Snake
Hanging Tree
Whiskey Drinking Liar
Arabia
Jumpin' Jive
It Happened Again
Voodoo Queen
Too Much Willie Nelson
Send Some Whiskey Home
Band Members
David Roux – Guitars/Lead Vocals
Ryan Smith – Drums/Percussion/Vocals
Alex Barter – Double Bass/Vocals
Pete Briley – Banjo/Lap Steel/Vocals
Videos
Links
http://www.theoutlaworchestra.com
https://www.facebook.com/theoutlaworchestra
Words by David Chinery (Chinners).
Picture By Will Carter from Two Finger Media