News: Hangoverhill's Live & Unheard Returns to the Lighthouse Poole on Saturday 19th September
on
August 29th, 2020
at
19:56
Featuring Mischa And His Merry Men, Chris Payn & Becoming Branches……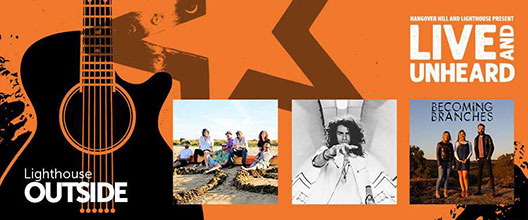 Brought to you by Hangover Hill Recording Studios and Lighthouse 'Live & Unheard' returns with a socially distanced version of the event in a special location outside of the Lighthouse in Poole. Tickets as you would imagine are limited and they can be purchased for just £11.75 from the Lighthouse link below.
The acts featured are:
Mischa And His Merry Men
A dynamic and inspiring collective of musicians who infuse an array of genres culminating in a melting pot of sax, strings, drums & keys. Mischa & His Merry Men deliver an energetic and compelling performance with their uplifting, socially charged originals taking you on an exciting voyage laced with messages of peace, love & unity… the revolution starts here!

Chris Payn
Chris is an accomplished singer songwriter, guitarist and pianist who has been gigging since an incredibly young age. As well as his solo sets he is also the frontman of legendary local band Colt 45 He has a wealth of original material with an anthemic sound which can confidently capture any audience.

Becoming Branches
Based in the New Forest, Becoming Branches are a Country-Folk-Pop trio blending acoustic sounds and soaring harmonies in an enchanting mix of creative and heartfelt originals. After winning the 2019 Wimborne Folk Festival Live Award; Jaz, Rob and Hannah have been busy in the studio and their debut EP will be released across all platforms this March.

Links
https://www.facebook.com/MischasMerryMen
https://www.facebook.com/Chris.Payn
https://www.facebook.com/BecomingBranches
Purchase Your Tickets here.