Four-piece Hampshire Rock band Second Knives release their debut single "Sovereign" on all major platforms on September 18th. The young band went into Wild Goose Studios in Wherwell, Hampshire and with the help of the experienced all-rounder Doug Bailey; brought their first creation together. The band use the typical rudiments of Rock music with a subtle fusion of Jazz and Funk, trying to carve out their own mark on the genre. For a young band, they certainly sound as though they have all the correct elements in place, with a great vocal delivery along with some impressive guitar work and spot-on rhythms.
The song is to be part of a wider concept album that the band have been working on and will reveal more details of the narrative in forthcoming singles. The "sovereign" is a leader returning from a long absence, who has become a figurehead for change that people can rally behind in order to rectify the chaotic world they live in. The story that the band are telling is one that can be applied to any situation where people want change but just need somebody to get behind to make it happen. The song certainly shows great potential and with further releases on their way, it will be interesting how this new band develop.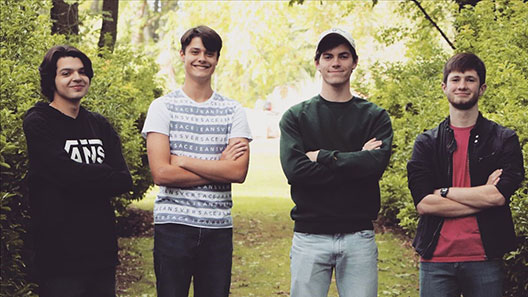 Second Knives are
Joe Sartin: Lead vocals and Rhythm Guitar
John Cooper-Wilde: Lead Guitar and Backing Vocals
Luke Rea: Bass and Backing Vocals
Jak Roach: Drums
Link
https://www.facebook.com/secondknives
Words by David Chinery.