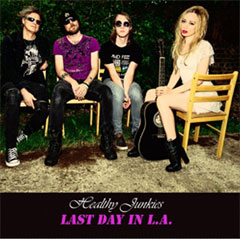 Ahead of their forthcoming fourth studio album Life On The Road, London Punk quartet Healthy Junkies release a teaser single "Last Day in L.A.". Described as a Psych/Punk anthem it doesn't disappoint and shows the band pushing the boundaries of their more familiar sound. The scratchy guitar opening is complemented by the unfussy hitting (Pumpy), amid a thumping snare. The searing, layered guitars match the now whisp-like vocals from Nina (lead vox). The guitars (Phil) shimmer during the vocal breaks and it's a fresher sound gleaned from spending time in L.A. on a 2018 Tour.
Clearly the sights and sounds have rubbed off on the band, this being so far removed from their earlier offerings. Yes, the trademark Junkies sound is still apparent; but there are moments in the song that would suggest a fresher, more melodic/radio-friendly sound. Maybe it's time to emerge from the "Capital Underground" and spread their wings globally. If this is just a taster then the future is bright. What sets the Junkies apart from the crowd is their rare ability to sound unlike any other band within the genre. I for one can find no points of influence.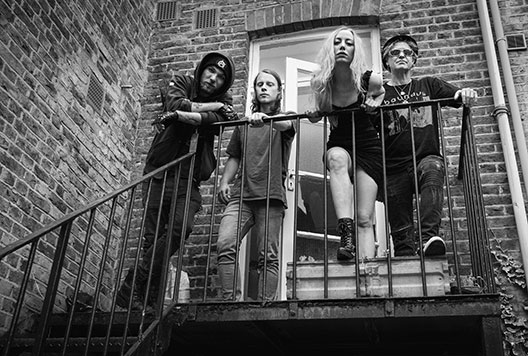 Band Members
Guitar – Phil Honey Jones
Sing – Nina Courson
Bass – David Whitmore
Drums- Pumpy
Links
http://www.healthyjunkies.co.uk
https://www.facebook.com/healthyjunkiesband
Review by Ross A. Ferrone.