News: Inglorious Announce UK Tour Dates For April/May 2021
on
October 2nd, 2020
at
17:41
new album set for release in 2021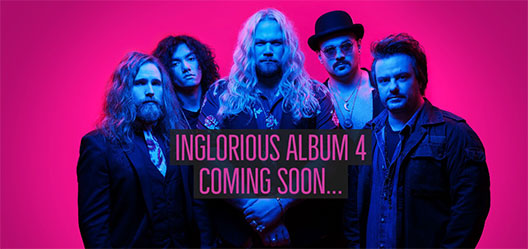 British rock quintet Inglorious is thrilled to announce UK tour dates for 2021. This is the first tour the band have put together with new international booking titans ITB (Aerosmith, Black Sabbath, Def Leppard, Judas Priest, KISS, Pearl Jam, Papa Roach, Biffy Clyro, Blink 182 and Limp Bizkit).
The band are also pleased to confirm that a new studio album will be released in early 2021. Further details to follow…

Inglorious 2021 UK tour dates are as follows:
Thurs 22nd April Engine Rooms, Southampton UK
Fri 23rd April Sin City, Swansea UK
Sat 24th April Phoenix, Exeter UK
Sun 25th April Junction, Plymouth UK
Tues 27th April Guildhall, Gloucester UK
Wed 28th April Thekla, Bristol UK
Fri 30t April Heretic Fest, Sheffield UK festival headline
Sat 1st May Picture Dome, Holmfirth UK
Sun 2nd May Nightrain, Bradford UK
Tues 4th May Cathouse, Glasgow UK
Wed 5th May Riverside, Newcastle UK
Thurs 6th May Academy, Manchester UK
Fri 7th May Tivoli, Buckley UK
Sun 9th May Arts Loft, Liverpool
Mon 10th May Brudenell, Leeds UK
Tues 11th May Rock City, Newcastle UK
Wed 12th May The Sugarmill, Stoke On Trent UK
Fri 14th May The Asylum Venue, Birmingham UK
Sat 15th May Crauford Arms, Milton Keynes
Sun 16th May Waterfront, Norwich UK
Tues 18th May Chalk, Brighton UK
Wed 19th May ULU Live, London UK
Tickets for all dates apart from Heretic Fest are available from 10am GMT Friday 2ndOctober 2020 from http://www.inglorious.com
For Heretic Fest please click here.
The band comments: "We are so excited to be joining the ITB family. So many of the bands we love are on this roster: Kiss, Rage Against The Machine, Extreme, Aerosmith, Richie Sambora to name just a few! A real honour for us and the start of some very exciting times for Inglorious. Thanks so much to Steve Zapp and all at ITB for believing in us, here's to lots more touring and a new album…"
Inglorious are one of the most exciting and vital acts in the British rock landscape and their shows are known to be nothing short of mesmerising. The band is renowned for their iconic and unique sound: a blend of influences from seminal rock albums of the 70's reinterpreted through contemporary sensibilities, which they have been performing with uncontainable energy and impeccable musicianship on stages across Europe.

The band's forthcoming fourth studio album – set for release in 2021 through Frontiers Records – will be the follow up to 2019's critically acclaimed album "Ride To Nowhere". The band are putting the finishing touches to the new album now.
Inglorious are
Nathan James – Vocals
Danny Dela Cruz – Guitar
Dan Stevens – Guitar
Vinnie Colla – Bass
Phil Beaver – Drums
Links
http://www.inglorious.com
http://www.facebook.com/weareinglorious