Poole Lighthouse
Featuring: Dave Griffiths & Band + Asha Zee + Harper & Edwards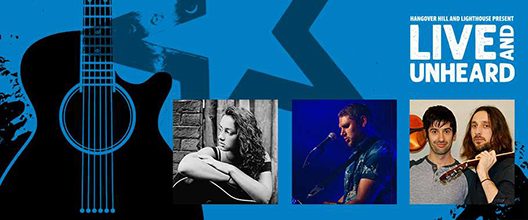 After the success of last month's outdoor, ground-breaking and socially distanced Live & Unheard; as the cold autumn weather has descended on us, the event returns indoors to the Lighthouse Theatre. It was thought that with all the new Covid-19 social distance rules; the theatre would give the space to put on an event, making sure that everybody is well spaced apart and safe. Like myself, I'm sure that there were a few folks who were a little worried about attending an indoor event before arriving. The Lighthouse and their staff are as eager to get things moving again as anyone. You cannot fault them as they had done everything asked of them to make people safe: plenty of hand sanitizer dotted around the place; well-organised seating and knowledgeable, friendly experienced staff. I for one have had enough of watching the various live streams on PC/Television and watching the real thing is just so much better.
Tonight once again Hangoverhill studio's Matt Black and his partner Mel Berkhauer have laid on a great night's entertainment with three eclectic local acts, all coming from very different areas of the musical spectrum. The first of these is a duo called Harper & Edwards, a couple of chaps who have been performing on the local music scene for many years now. I first saw them play as a zany electro outfit called JC Jesus during the heats for the much-missed Dorset Music Awards in 2012. The guys arrive on stage and kick off with one of their early singles "About You", Harper is using a six-string acoustic guitar and Edwards is on the violin. They are more used to performing in pubs, bars and music venues and are both clearly enjoying the opportunity of playing this much larger space. They deliver a set full of original tunes all written from a very personal point of view, including a song that the recently married Harper's wife walked down the aisle to called "Walk You Home". There is also a powerfully moving number about the environmental destruction of our beautiful earth called 'Burn', the lyrics are quite hard-hitting and like Metallica once said it's "Sad But True". The forty-minute set ends with a locally-inspired track called "Old Harry" which starts of with some impressive acapella vocals, the crowd respond well and give the duo plenty of positive applause as they leave the stage.
Next up is teenage singer-songwriter Asha Zee who to date has had several TV appearances; radio play across the South of England, along with over 100,000 views on Facebook and even a spot in the Amazon charts. This young lady clearly has a big heart, with her aim to inspire people through her music to be able to cope with the world around them. Asha has brought along her full band who are all within the 12-15 age range. They include Callum on drums, Harry on Bass, Kieran on Electric/Acoustic Guitar, Elias on keyboards as well as dancers Erin & Hayley. Make no mistake; these musicians maybe young but they all certainly have some big ideas and bags of confidence being on this large stage, playing to possibly the biggest crowd of their lives. It's clear from the start of the first song "I'll Be There For You" Asha has a fantastic voice and can easily deliver her fine vocals across this large auditorium. Her songwriting is very mature with her tunes taking on some tricky subjects including "Big Girls Don't Cry" about parents arguing and 'Be Strong' inspired by her brother's autism. The whole show from start to finish was thoroughly entertaining. The onstage production with two large interactive screens, with the dancers worked well and her band totally impressed too. The set earned all of the performers a standing ovation and well deserved it was too. I'm sure it's an evening that none of them or their families will forget.
The final act of the evening is the Dave Griffiths band, fronted by a local man who is a total all-rounder and a musician who has his hands in many musical projects. One night you might see him playing solo; another night he will be hosting an open mic night, another you might see him performing with his showband the Trouser Band or creating music with a host of original bands including Future Dances, Chaos Curb, Bosh and The Brutal Years (to name a few!!). Kicking off with the powerful tune "The Fear" from Dave's "Brutal Years" EP the band immediately find their stride delivering a wonderous full sound featuring Matt Coates on Drums, Stuart Champion on Keyboards, Richard Gawler on Electric Guitar and James Grant on Bass. One of Dave's main musical inspirations is his faith and he uses this to help create uplifting, celebratory music which appeals to a wide range of tastes. The songs soar high and have the ability to uplift believers and non-believers alike. There are some wonderful atmospheric moments with Richard on guitar, providing some excellent effects with his Gibson Jaguar on tracks like Chaos Curb's "Suburban Spirit" and the wonderful "Resurrection". There is even a special guest in the form of violinist Matt, who has travelled across from the West Country to add some of his expertise to Dave's songs. The whole set is thrilling to watch from beginning to end and I just feel privileged sitting here enjoying all that Dave and his band have to offer.
Yet another fantastic night of local live music from Live & Unheard, will it be the last for a while with the potential of another lockdown looming, I sincerely hope not. The November Live & Unheard is on Thursday 12th November (Pandemic permitting!!) featuring Lee Rasdall-Dove & His Band, Russell Starmore and Nia Nicholls. Tickets are just £10 and can be purchased here.
Set Lists
Harper & Edwards
About You
Walk You Home
I'm Your Man
Forever
Skipping stones
Burn
Informed choice
But Anyway
Without The pain
Old Harry
Asha Zee
I'll be There for You
It's Not Ok to Say You Love Me
Heart on the Line
Big Girls Don't Cry
Dating for Heartbreak
Just Be Kind
Discarded
Be Strong
Dave Griffiths
The Fear
Heaven Syndrome
Wild Like Children
It's in You
Heading West
Suburban Spirit
Grow Dark
Draw Another Line
Resurrection
Standing in the Presence
Son
Videos






Links
https://www.facebook.com/harperandedwards
http://www.ashazee.com
https://www.facebook.com/davegriffmusic
Words, Pictures & Video by David Chinery (Chinners)