News: Live & Unheard November Preview….
on
October 8th, 2020
at
01:00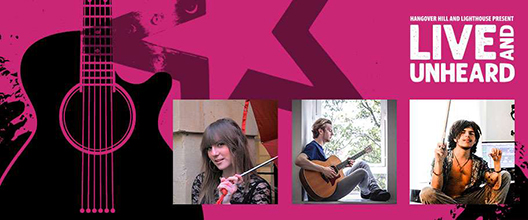 Hangoverhill's Live & Unheard Returns with it's new socially-distanced version to the Lighthouse Poole on Thursday 12th November. You can enjoy three more highly rated local acts as they have a rare opportunity to experience a larger stage as the monthly unsigned music night returns.
This month we have…
Singer Songwriter Lee Rasdall-Dove shall be performing with full band for the first time in 4 years, with an all new line up and a range of new originals! With a wide mix of genres described as easy listening folk to pop-rock there should be something to suit everyone.
Russell Starmore's music will simply blow you away. His mixture of psychedelic rock and soft, soothing melodies takes you back to the days of artists such as Jim Morrison and Syd Barrett. A singer/songwriter who is an incredible guitarist, with an amazing voice and a thought-provoking lyricist, will leave you dumbfounded with his jaw-dropping show. The opportunity to see him live must not be missed. Prepare to be abducted!
Nia Nicholls is a Country and Pop Singer/Songwriter who took her first trip to Nashville at 13 and has been back every year since. From performing in well-known locations to co-writing on music row and recording her own songs with session musicians who have worked with the likes of Faith Hill, Taylor Swift and more. Nia has received recognition for the 5 singles she's been releasing over the past year. All of which have received airplay on BBC Music Introducing.
Tickets just £10….. and can be purchased here:
https://www.lighthousepoole.co.uk/whats-on/2020/live-and-unheard-nov-2020/#/tickets
Links
http://www.leerasdalldove.com
https://www.facebook.com/RSRhythms
https://www.facebook.com/nianicholls1