If your reading this you are clearly a music fan: names like Blink 182, New Found Glory, Sum 41, Fall Out Boy and Green Day will obviously be familiar to you; but have you heard of Scottish four-piece The Ruptured Ducklings? They have released their debut EP 'Broken Foundations' last year and have recently announced the release of a follow-up single called "All She Wants". Drummer Marek explains "it is not just another song; it's a statement that despite the whole world being upside down, a better day will come. "We should be optimistic and believe that the better times are still to come. We are not allowed to perform at the moment but we have internet, television and radio. We would be delighted if you would like our new song."

Jonny (Vocal/Bass) explains the inspiration behind the track: "I tend to write songs about experiences most people will encounter, so that it's somewhat relatable and then make it a bit more extreme. "All She Wants" is about someone's partner who is very controlling, without it being totally obvious at first; it then becomes overwhelming and the guy decides to leave. Then he goes about his life and realises she was actually trying to help him be a better person. So they meet up and decide to give it another shot and it's sort of like a never-ending loop, having the music video (which was cleverly put together with the help of Film maker Alex Cormack) to back this song up is great and I love the idea of using the PlayStation controller to show the girlfriend controlling her partner, it just works perfectly!".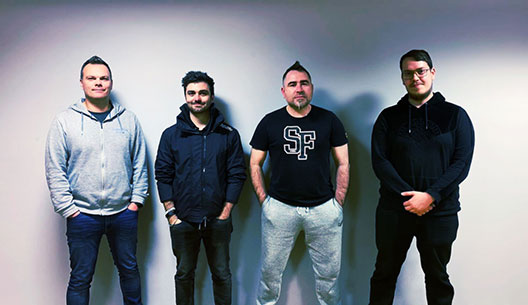 The track is an infectious three minute shot of far-reaching melodious guitars and vivacious rhythms, coupled with harmonious cranium-infecting vocals. The exhilarating guitar solo, partway through uplifts with its skilful six-string goodness. It's a radio-friendly tune that in this day and age with currently very little to look forward to, would have the power to rollick its way to gleefully brightening anyone's day upon hearing it. The band's name is possibly one of the best and most unforgettable names I have heard in a long time. I sincerely look forward to a day when they are back on the road and playing tunes like this live once again.
The Ruptured Ducklings are
Jonny Lees – Vocals / Bass
Dawid Kutarnia – Guitar
Marek Sztuka – Drums
Mirek – Guitar (live)
Links
https://rupturedducklings.wixsite.com
https://www.facebook.com/TheRupturedDucklings
Words by David Chinery (Chinners)