After a string of singles 'Cold Culprits' aka North Yorkshire multi-instrumentlist and singer/songwriter Andy Watson is gearing up for the release of the debut 5 track EP on the 11th December. Andy first got into music after finding an abandoned cassette in the street, he took it home to play it on his father's tape player and it happened to be Stuart Adamson and Richard Jobson's punk band The Skids. It was here that Andy can trace back his love of guitar-driven Punk Rock. The name Cold Culprits is a nod to another Punk band from Los Angeles The Germs. It's a loose connection; along the lines that germs are the culprits behind the common cold, or "cold culprits". The Germs were unstable, self-destructive and incoherent. They also wrote some awesome lyrics, setting the words to completely intelligible songs in the few short years before they imploded.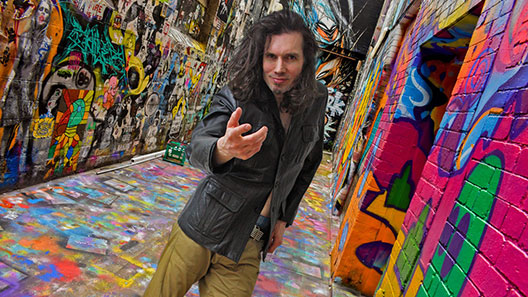 Andy takes us through the tracks of the EP individually:
Full Moon, Empty Promises
Track 1 begins with the full-blown; confident lyrics, funky bass and guttural guitar tones of Full Moon, Empty Promises. But the EP opener began as nothing more than a catchy phrase. "I just had those four words going around and around in my head and I thought it would make a great song title," "Working backwards from the title was a first for me, and it made me approach the song from a completely different direction. I've ended up with a funkier, more wayward and vocally-dependent track than usual; with overdriven guitars, bass and plenty of toms shaping the feel of this one."
Ribcage Beats
It's a complete stripdown and rebuild of a previous Cold Culprits song, Candy Thief. Reimagined and retitled, Ribcage Beats is a back-to-basics, no-nonsense indie-rock anthem about doing whatever comes into your head. Gone are the synths, keyboard bassline and electro-pop drum beats of Candy Thief, replaced with raucous guitar riffs; a pounding bassline from a cheap bass guitar and unrelenting, sneering vocals. The result is a far more dynamic and swaggering song.
Here Comes The Neighbourhood
Stripped-back and slowed down, Here Comes the Neighbourhood creates a relaxed counterpoint to guitar-laden tracks like Ribcage and Apathy. "I decided to write this one on a piano, which is something I've never done before," says Andy. "I needed a song to form the centre of the EP and change the mood, slow things down." The result is melodic and almost folk-influenced, but this is no lovelorn ballad. Andy's piano and understated vocals are juxtaposed with off-kilter lyrics that breed a sense of growing unease. "Don't look too far down the boulevard", we're told, because everything's not quite what it seems in sunny suburbia…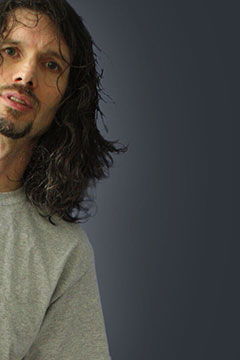 Sweet Apathy
Sweet Apathy brings us right back into the the guitar zone. "I can almost hear the blood, sweat and purpose spitting out of the speakers when I listen to this one." "Sweet Apathy began with me laying back on the sofa and hitting a bunch of chords on my Telecaster custom. Usually, I'll start writing the words first and then flesh it all out on an acoustic guitar, but I just fancied bashing the electric and thinking about gigging. Then I got behind the drums; hammered out a rough drum beat, then back to the guitar and cranked up the amp. This is one of the fastest songs I've ever written."
The result is an unapologetic anthem to killing time; with dive-bombing guitars, spiky vocals and a thrashing drum beat.
World On A Wire
Written after a John Wick TV binge-session; World On A Wire has a gritty, raw cinematic feel. "I recorded most of the parts on an old Fostex multi-track tape machine," says Andy. "I wanted to get an old-style analogue sound and capture that hot, overdriven cross-talking feel that you just don't get from a digital mix." The result is exposed and unadulterated, with distorted vocals; stabbing, twisting riffs and a relentless drumbeat. "This is more in your face than my usual stuff," Andy says, "much darker, dirtier and angrier. Recording this to tape just made the whole thing feel a lot more fun, and I didn't want it to get cleaned up too much in the mastering."
The EP is the culmination of Andy's desire to create original music that all started from one particular point when he was a child. To now be able to get to this point is certainly some achievement, that many can only dream of. It's an impressive body of work that shows a wide-eyed artist at the genesis of his career. As a multi-instrumentalist there are many moments here that shine brightly from the collection opener "Full Moon, Empty Promises", which has a real early Simple Minds vibe; from the distinctive bass sound to the electronics and soaring uplifting vocals. It captures a real retro, alternative style with many influences from different era's. "Ribcage Beats" shows a brave and bold step of taking an existing established track and re-working it from the ground up with clear success. "Here Comes The Neighbourhood" is personally my standout track, a lyrically clever piece that flows beautifully with the gentle ivories backing. On Track five "Sweet Apathy" the pace changes to the powerhouse of propelling guitar with hard-hit rhythms. The EP closes with "World On A Wire" an experimental piece that concludes with many interesting twists and turns, showing Andy to not be afraid to push boundaries.
You can pre-order a physical signed limited edition copy of the EP from the Cold Culprits website, there is only going to be a run of just 200 discs. For just £8.00, you will get a signed copy of the CD, along with a download link to all the tracks digitally. It will also be available from 11th December on all the usual download and streaming services.
Video


Links
https://coldculprits.com
https://www.facebook.com/coldculprits
Words by David Chinery (Chinners).