Five-piece Black Country rockers Gin Annie has made many friends down here in the South of England; after a great performance at last years Winter's End Festival and a very memorable pre-lockdown gig at the Madding Crowd in Bournemouth, where the band treated the socially distanced crowd to a fantastic night of rock n' roll. Despite all of us now being in a seemingly unending lockdown, the band have just released a brand new one-off single entitled "Devil In Me" to brighten our spirits. The song is as described by frontman David Foster; ""Devil in Me" explores that powerful point where flirtation becomes seduction: when a connection is made, built on raw desire alone. A "look" and a "smile" can tell so much and that initial spark of connection kindles quickly from flirting, then flares to full flame. Tension builds; ardour and fervour, you then know exactly where the night is heading. It's a moment full of adrenaline, serotonin and dopamine: a kick people can get addicted to — or at the very least, most can remember a time when eyes have locked across the room and that instant magnetic attraction has taken hold".
The track shows the band in fine form with their trademark NWOCR (New Wave of Classic Rock) sound that uses their powerful melodic, twin-guitar; along with driving rhythms and all coupled with David Foster's positively uplifting, seemingly effortless vocal delivery. The band have also put together a fine video to go with the track, explaining "we needed something visually vibrant and stimulating, so we used a huge video screen background and as many lights as we could get our hands-on," say the band. "We didn't want the video to tell a story: we wanted it to reinforce the song's vibe and feel. We also wanted the video to reflect our live performance," they go on; "we are an energetic band and we understand the importance of letting people get a taste for our stage show, who haven't yet had the opportunity to see us live. Plus, it was an excuse for us to get on stage and have some serious fun during lockdown!"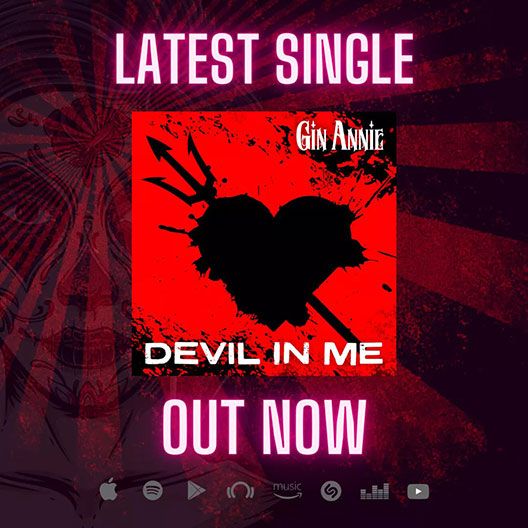 The single when released got to number 1 on the Amazon Rock music best sellers chart and is available now. You can find the track on Spotify here and amazon music here.
Gin Annie are
David Foster – Vocals
Byron Garbett – Guitars
Brian Green – Guitars
Phill Burrows – Bass
Lewis Turner – Drums
Links
https://ginannie.com
https://www.facebook.com/GinAnnieUK
Words by David Chinery (Chinners).