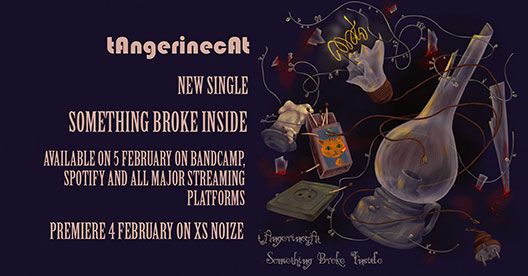 UK-based DIY art-pop/post-punk duo tAngerinecAt announces forthcoming new single "Something Broke Inside" for release on February 5th. The song narrates waking from a nightmare, coughing blood laced with shards of broken glass – the psychological aftermath of contaminated; intimate relationships, angst and isolation. Following on the heels of tAngerinecAt's last album Many Kettles featuring "Roses from Blood", the imminent "Something Broke Inside" is at once a sonic and artistic tour-de-force.
The duo is made up of non-binary Eugene Purpurovsky and Paul Chilton, who first got together in 2003; followed by touring Ukraine, the UK and Russia. In 2014 and they took the name tAngerinecAt; beguiling audiences with their electrifying, cathartic performances full of arresting unparalleled fusions of sound; including hurdy-gurdy, whistles, duda, harmonica, and avant-garde layers of electronic music. Intertwined with Eugene's deeply personal lyrics tackling themes of severe trauma, childhood abuse, poverty, gender inequality, dehumanization, stigma, persecution, and the challenges of being a migrant from a poor post-Soviet country at war, tAngerinecAt creations evoke the serrated edge of the task of being human.
Since then, tAngerinecAt has released four albums, toured extensively, received beaucoup airplay on BBC 2, BBC 3 and BBC 6, and performed at myriad festivals: Knockengorroch Festival, Eden Festival, Equinox Festival, Willowman Festival, Leigh Folk Festival, Festival8, Festival x-24, Fire In the Mountain, Llangollen Fringe Festival, Blue Lagoon Festival, Tanner Fest, Radnor Fringe Festival, Alice's Wicked Tea Party, Wrex Fest, Hidden Hill Festival, JudeAnt Festival, Krayina Mriy, and Trypilske Kolo, along with others.
Surging with complex visceral textures; simultaneously potently dark and despairing, the new single "Something Broke Inside" travels on a stark rhythmic beat enhancing Eugene's piercing vocals, infusing the tune with feelings of oil-and-water, while layers of sound assemble uneasiness. The tune is an all-out attack on the senses, delivering a mass of original sounds and textures to create something completely unique. The music comes from deep inside the very souls of the makers acting as an outburst of emotion and a release. The sinister sound of Hurdy-Gurdy along with spine chilling avant-garde electronica, coupled with the menacing drone of the Ukrainian Bagpipes tests even the calmest of nerves. tAngerinecAt is wickedly irresistible and certainly not for the faint-hearted, but worth investing some time to get to know.
tAngerinecAt are
Eugene Purpurovsky: Hurdy-Gurdy, Ukrainian Bandura
Paul Chilton- Keyboards
Links
http://www.tangerinecat.net
https://www.facebook.com/tangerinecatpage
Words by David Chinery (Chinners).