News: Music Hits A High Note Bringing People To Poole
on
March 26th, 2021
at
20:11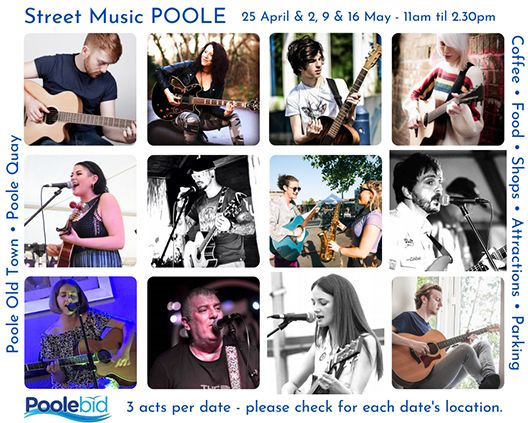 Poole BID are proud to present Street Music Poole. A brand new programme of live music aimed to attract music fans to the town also entertaining shoppers and day-trippers.
Everyone is welcome to visit Poole and enjoy live music performed by local musicians. A fun day out to browse the shops and grab a bite to eat with free entertainment. Supported by Poole BID, the music locations vary for each date so onlookers can also visit the nearby businesses. With many hidden gems, Poole Old Town is home to Boiler Room Records with their selection of impressive vinyl and the retro store Paradox Comics, both located near Poole Museum. Another music spot is under the Fish Shambles outside The Lord Nelson, a venue well known for excellent live music nights.
On the day you can expect 3 acts performing in a busker street style with a mix of popular covers and their own original music. Event professional, Strawberry Fields RePresents has been busy booking the musicians on behalf of Poole BID and excited to animate Poole Old Town and Poole Quay with high-quality talent. The shops, cafes and restaurants in Poole offer an eclectic mix of products and services ranging from major high street brands to unique independent retailers. There are many easy parking options yet visitors are encouraged to travel sustainably using the Beryl Bike hire scheme, walk or use public transport. Each day aims to bring a lively activity and a fantastic opportunity to also rediscover what Poole has to offer. It's free to watch and there will be collections to support the worthy RNLI charity.
So grab your diary, here are the dates for Street Music Poole, 11am til 2.30pm each day…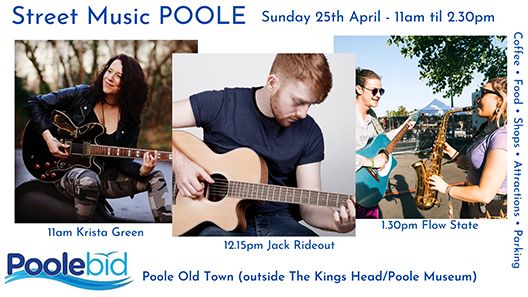 Located outside The Kings Head/Poole Museum, Poole Old Town
Krista Green / Jack Rideout / Flow State.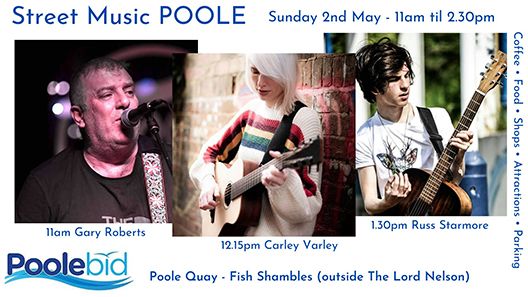 Located under the Fish Shambles near The Lord Nelson, Poole Quay
Gary Roberts / Carley Varley / Russell Starmore.
Located in Orchard Plaza, Poole Old Town (outside Sainsbury's Local)
Hannah Kilgore / Nicole McNally / Lee Rasdall-Dove.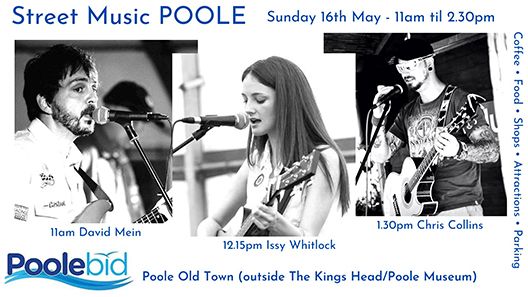 Located outside The Kings Head/Poole Museum, Poole Old Town
David Mein / Issy Whitlock / Chris Collins.
Links
https://www.poolebid.com/
https://www.facebook.com/PooleBID