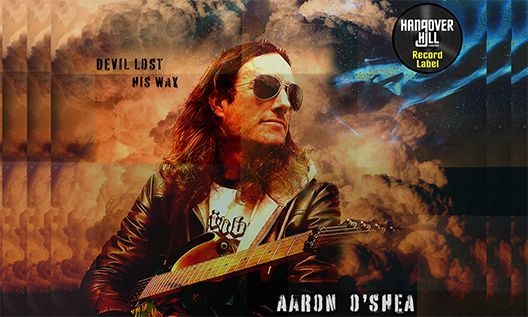 Dorset Rocker Aaron O'Shea is set to release his debut album Devil Lost His Way on the 9th April 2021. The album has been just over 2 years in the making and it was put together with the expert assistance of Matt Black at Hangover Hill Studios in Blandford. Aaron has been a familiar face around on the live music scene for over 15 years as a guitarist in multiple local bands. He felt that now with that experience it was time to make a few hits for himself. His influences are very eclectic; coming from a vast range of different genres including Blues, Classical, Funk, Heavy Metal and of course his mainstay Rock.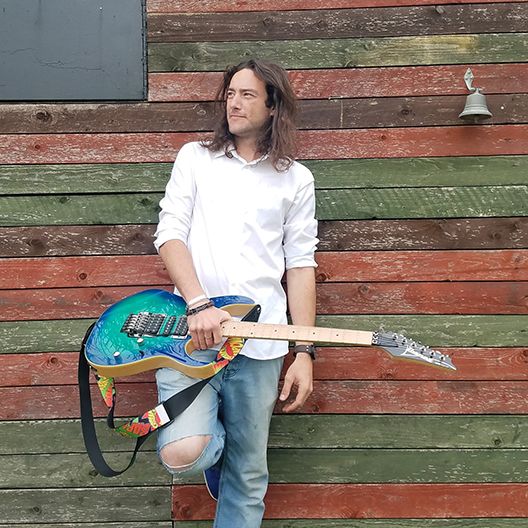 The ten-track album opens with "No Going Back" and from the start it's clear that Aaron is an accomplished guitar player. The electric guitar lights up this Blues-infused track with an infectious rolling riff, along with a series of creative solo's. The track was written whilst Aaron was on his lunch break from his job as a dustman. Arron explains "I was having a really bad day at work and to top it off I was having relationship problems, so I went and sat in my car with an old envelope and pencil writing out the lyrics. It is all about making that big step in life and changing things to the way they were meant to be for you. It's about going for what you love instead of failing at what you don't want to do.

"Time on the Line" is next up with a mess of Blues; some heady basslines, a cascade of drum beats coupled with electric guitar and stirring vocals. "Just for a While" is next or the "Batman Song" as I call it, as it has a guitar part that reminds me of the original Batman TV series theme. During "Just for You" this singer/songwriter writes an incredible personal message to himself about his past battles with depression. It's a message to give him a positive lift and to just keep smiling and be happy for a while, when things get tough. "Been Here Before" features a wonderfully driving bassline that propels the song forward and Aaron shows us some incredibly imaginative guitar work, which reminds me at times of the creative style of Skids/Big Country's Stuart Adamson. The pace slows for "Stay' an acoustic-backed number with some passionately penned lyrics.
Next up is a previously released single "Runaway", which shows a poppier side to the music. Possibly an attempt to get some radio play; at times the song lacks additional vocal harmonies, it's 95% there with a great bed of music behind it. The song is about misunderstood friendships; Aaron explains "I wrote this song after meeting up with a friend who wanted much more from me that night, but I wasn't interested in that and wanted just to stay friends – but when rejecting her she became nasty and bitter and after an awesome friendship over many years, sadly I never saw her again".

Typical Rock n' Roll clichéd "Devil Lost his Way" has a progressive feel to it with some interesting effects, to create a huge atmospheric sound big enough to fill any venue. One of the standout tracks of this collection is "Don't Seem Pretty"; a track with an alternative feel, there is so much musically going on to enjoy. It's a song where anger is vented over people who ruin it for the rest of us, by trying to use their voice for good and change; but instead, turn up just to create chaos using inappropriate violence. The self-explanatory "In love With You" shows some dirty Rock n' Roll and a guitar solo from the very depth of Aaron's considerable six-string skill.
The best has been undoubtedly left 'til last with an epic track titled "This is For You", where Aaron gets together with Matt Black's considerable piano skills to create an uplifting masterpiece. Everything just seems to fall in place for this track, it's a huge tune with some wonderous heartfelt lyrics and some amazingly creative musical talent. At 6 minutes 47 seconds long it's not for the faint-hearted: the tune just builds and builds with a choir of voices in the background, leading to a guitar solo that Aaron was born to perform.
Aaron has provided a remarkable debut album that impresses in plenty of areas, particularly his guitar playing. There is so much on offer here for the listener to savour and enjoy.
Track Listing
No Going Back
Time on the Line
Just For a While
Been Here Before
Stay
Runaway
Devil Lost his Way
Don't Seem Pretty
In love With You
This is For You
Links
https://www.aaronoshea.com
https://aaronoshea.bandcamp.com
Words by David Chinery (Chinners).