News: Lighthouse Poole returns with a host of Musical, Comedy and Theatrical Entertainment……
on
April 14th, 2021
at
19:32

It's in to be out at Lighthouse this summer as Poole's centre for the arts confirms a second season of Lighthouse: OUTSIDE, with a series of performances outdoors from May to July, as well as dates indoors for Saving Grace, featuring music legend Robert Plant; and Blindness, the binaural theatrical experience that was a sensation in the West End and Off-Broadway.
Also announced this week is a very special adaptation of a classic Grimms' fairy tale and the launch of Screen On Stage, the incredible new cinema experience at Lighthouse.
Now that we're able to enjoy the thrill of live performance again, a second season of Lighthouse: OUTSIDE – outdoor performances using the amphitheatre to the side of the building – will see live music, comedy, poetry and theatre every Saturday from 29 May until 24 July, including a "festival day" double-header of unsigned music showcase Live and Unheard on 3 July with afternoon and evening line-ups.
After being forced to postpone their show last year, Saving Grave – the musical collective fronted by Robert Plant and Susi Dian – were determined to play Lighthouse at the earliest opportunity and are set to arrive in Poole on 25 June, just days after the Government's projected lifting of lockdown restrictions.
Opening a week's run on 12 July, award-winning playwright Simon Stephens has adapted Nobel Prize-winner José Saramago's dystopian novel Blindness as a sound installation, directed by Walter Meierjohann with immersive binaural sound design by Ben and Max Ringham. Juliet Stevenson voices the Storyteller/Doctor's wife in this gripping story of the rise and, ultimately, profoundly hopeful end of an unimaginable global pandemic.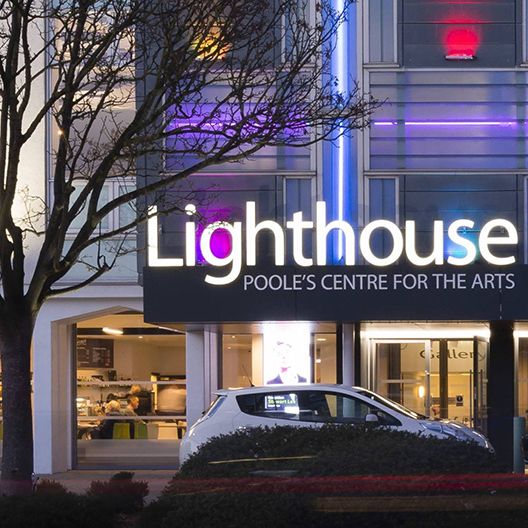 Screen On Stage is the new high definition, surround sound cinema experience in the Theatre space showing great films and major arts events on one of the region's biggest cinema screens with spine-tingling audio quality. The programme starts with a specially-priced introductory screening of The Greatest Showman (PG) on and continues with Cirque Du Soleil's astonishing Worlds Away.
The full list of shows going on sale this week is:
The Greatest Showman (PG)
Saturday 22 May, Screen On Stage, 7.30pm
The launch of our sensational new cinema experience in the theatre space. A giant screen and spine-tingling surround sound will make this specially priced showing of the exuberant musical biopic of PT Barnum an event to remember.
Lighthouse: OUTSIDE – Comedy Club 4 Kids
Saturday 29 May, Ampitheatre, 2pm
Featuring some of the UK's top club stand-ups this has all the rowdy feel of a grown-up comedy club, but without the rude bits – it's cracking entertainment for everyone over the age of six.
Lighthouse: OUTSIDE – Live and Unheard: Two Man Travelling Medicine Show + Amie Wright + Jordan Watts
Saturday 29 May, Ampitheatre, 7pm
The curators of our regular monthly showcase for new and unsigned music talent are itching to share their latest discoveries with an audience.
Lighthouse: OUTSIDE – Sweet Little Mystery: The Songs of John Martyn with Sarah Jane Morris
Friday 11 June, Ampitheatre, 7pm
Sarah Jane Morris, a 1980s chart-topper with The Communards, shines a light on the art of the great John Martyn with special arrangements of some of his best known songs.
Lighthouse: OUTSIDE – Luke Wright: The Ballad Seller
Saturday 12 June, Ampitheatre, 2.30pm
Expect scandal, excess, and beautifully flawed humanity as Luke Wright shares stories culled from Georgian street ballads rewritten for the modern ear. Take a trip through the Drury Lane gin shops with the Boxing Baroness; filch oysters by the dozen with Dando, the celebrated gormandiser; and escape the Bull Ring with Jemmy the Rockman.
Lighthouse: OUTSIDE – Coastal Comedy: Troy Hawke + Nathan Eagle + Jim Campbell
Saturday 12 June, Ampitheatre, 7pm
Coastal Comedy's regular host Adrienne Coles comperes a bill of three top TV stand-up comedians, headlined by Coastal's favourite cad Troy Hawke.
Saving Grace feat Robert Plant and Suzi Dian
Friday 25 June, Theatre, 7.30pm
Saving Grace is a co-operative featuring Robert Plant and Suzi Dian (vocals), Oli Jefferson (percussion), Tony Kelsey (mandolin, baritone and acoustic guitars) and Matt Worley (banjo, acoustic and baritone guitars, cuatro) in glorious harmony reworking a diverse selection of cover versions. Support comes from award-winning duo The Rails whose latest album, 2019's Cancel the Sun was produced by the legendary Stephen Street.
Lighthouse: OUTSIDE – Cloudscapes
Saturday 26 June, Ampitheatre, 11.30am, 12.15am, 1pm, 2.15pm, 3pm, 3.45pm
Lighthouse Associate Artist Lorna Rees of Gobbledegook Theatre stages her duologue for performer and clouds as audiences lie on beanbags and contemplate the ever-changing parade of clouds while listening to a story laced with clouds.
Lighthouse: OUTSIDE – Live and Unheard: The Bit on the Side: Carley Varley + Marco Di Gaetano + Time Somerfield + Jazz Wrann & the Ruby Welts
Saturday 3 July, Ampitheatre, 1pm
The unsigned music showcase sets up a very special 'festival day' starting with this afternoon bill in the open air, complete with an outside bar, augmented by an art exhibition/makers' fair.
Lighthouse: OUTSIDE – Live and Unheard: Lee Rasdell Dove + Cherry Morris + Plastic Jeezus
Saturday 3 July, Ampitheatre, 7pm
After the afternoon comes the evening as Live and Unheard continues with the cream of the region's unsigned music talent.
Cirque du Soleil: Worlds Away (PG)
Thursday 8 July, Screen On Stage, 7.30pm
A girl called Mia visits a travelling circus and falls in love with its main attraction, the Aerialist, before being transported to the dreamlike world of Cirque du Soleil.
Lighthouse: OUTSIDE – Coastal Comedy: Rob Deering + Ben Keenan + Njambi McGrath
Saturday 10 July, Ampitheatre, 7pm
Coastal Comedy's regular host Adrienne Coles comperes a bill of three top TV stand-up comedians headlined by Coastal regular Rob Deering.
Blindness
Monday 12 – Saturday 17 July, Sherling Studio, 1pm, 3.15pm, 6.15pm, 8.30pm
The critically lauded – and chillingly timely – Donmar Warehouse production based on the apocalyptic novel by Jose Saramago about an epidemic of blindness and the rapid disintegration of society. Adapted by Simon Stephens.
Lighthouse: OUTSIDE – Ninebarrow
Saturday 17 July, Ampitheatre, 7.30pm
From their Poole base, multi award-winning duo Ninebarrow – Jon Whitley and Jay LaBouchardiere –are making ever-bigger waves with ever-growing audiences as their latest album A Pocketful of Acorns attracts a raft of glowing reviews.
The Elves and the Shoemaker
Saturday 24 July, Sherling Studio, 11am, 2pm
From the brilliant Treehouse Theatre comes this adaptation of the Grimms' fable about a poor cobbler and his helpful assistants rewritten with the help of local people with learning difficulties to make the show as accessible and enjoyable for the widest range of needs. Including sign language, seated dance and more music, the show is for everyone but is especially suited to people with learning difficulties who have missed out on so much during the lockdowns.
Lighthouse: OUTSIDE – Moscow Drug Club
Saturday 24 July, Ampitheatre, 7.30pm
The very welcome return of the party-starting rabble-rousers whose mix of Berlin Cabaret, Hot Club de France, Gypsy jazz and French Musette never fails to move the feet.
Tickets go on pre-sale to Lighthouse Friends only from Wednesday 14 April and on general sale from Friday 16 April. Subject to the latest safety guidelines, more shows will be announced in the coming weeks. For details of Lighthouse Friends visit here.
Links
https://www.lighthousepoole.co.uk
https://www.facebook.com/lighthousepoole