Like the rest of us, frontman Paul Ronney-Angel of the red & black musical misfits "The Urban Voodoo Machine" was getting a bit fed up with staying at home during the pandemic. To start with his weekly musical live streaming kept the wolf from the door; Zoom calls with friends help pass the time but like the regular Chris Witty broadcasts, things soon got mind-numbingly boring. Paul needed a project to get his teeth into, something to get his creative juices flowing again and something to keep him occupied until his beloved live music returned once again. Multi-instrumentalist Norwegian-born Paul has a really unique character and over the years he has performed with a number of eclectic acts including his first band "Q Sling" featuring Ed Graham of The Darkness. He spent a short time with British alternative band The Godfathers and more recently depped for Punk band "Borrowed Time" on bass, as well as an extensive live solo career.
The project entitled "London Texas Lockdown" is an eight-track affair that features Paul as the ever colourful ringleader, bringing together a mixture of musical talents to the right place at the right time. Paul explained "it wasn't like I woke up one morning and said I'm going to make an all-star album with a lockdown pandemic theme; not at all, it just happened that way. I tend to write about what's happening in my life and of course, the pandemic was huge. The songs and collaborations just happened naturally; one by one, to the stage where producer Alex McGowan and I just looked at each other and said we've got an album here!"
The album turns out to be an eight-track affair and has many welcome surprises along the way. It opens with the very appropriate "2020 (You Been a Pain in The Ass)", a song featuring a duet with Linda Gail Lewis (Sister of Jerry) and guitar from Paul's former touring buddy Danny B Harvey of "Headcat". You could imagine the trio sat in the corner of an authentic Louisiana bar, drooling out the lyrics and jamming its own unique backbone. The trio continues with the more upbeat "Wild Turkey & Lemonade" that positively bounces with its infectious chorus and amalgamating a host of beautiful influences. The two tracks have also been brought together on a delightful Orange Vinyl 7″ single which can be found on Bandcamp here.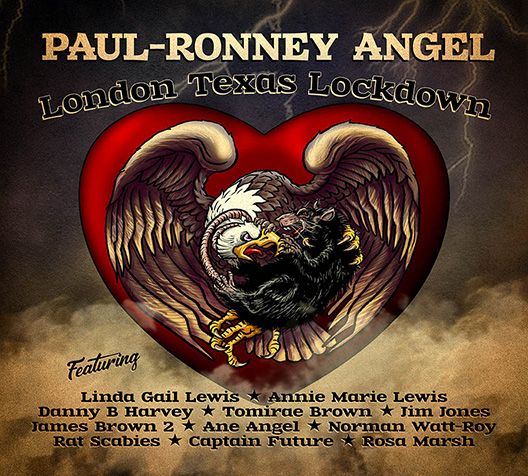 Next up The Ramones track "I Wanna Be Sedated" gets the acoustic lockdown shakedown treatment; where acoustic strings slow things from the original with Paul's gravel thick vocal, along with stark contrast from the more delicate harmonies from Linda Gail Lewis. They seem to have had a lot of fun with the arrangement of this track and this treatment certainly lends itself for use as an encore at future live shows…..just imagine the audiences singing the whoa whoa whoa's. Paul's only solo track on the whole recording in "One Ghost Town", a rootsy observation song dedicated to the deserted streets of our hallowed capital during lockdown. It has a very Western feel with some "The Good The Bad and The Ugly" style whistling, coupled with distinctive rhythmic rumblings and some very creative strings work. The pained and sometimes strained vocals take a dig at the UK regime with lyrics like "too many lives been lost, the government have failed yet again, the're a Joke You Can Trust".
"Last Train to Wherever" was a track written by the late Nick Marsh who fronted "Flesh For Lulu" and was a fellow band member of Paul's in "The Urban Voodoo Machine". Paul would certainly make his friend proud with this emotional outpouring, it just has the atmosphere of an empty dance hall after a heavy night. Paul has poured himself a large glass of his favourite tipple and has propped himself up in one of the corners with his guitar. The song is also delightfully backed with some angelic harmonies from Nick's 11-year-old daughter Rosa.
The tracks and the musical pedigrees just keep on coming. "Oh Pandemic" was a track written and released by Linda Gail Lewis in 2020. After discovering it Paul used to perform it as part of his weekly lockdown shows and it became a song he grew to love and simply wanted to record it. For this he recruited the widow of James Brown "Tomirae" and her son "James 2". Opening with the unmistakeable cough from a Covid-19 sufferer, the chilling tale is one big moan to the Covid complaints departments. Paul's multi-instrumentation comes into its own here with a host of wonderfully creative moments to savour.
This classic gospel "Carter Family" track "Will The Circle Be Unbroken ?" will make you feel it's ok to move all the chairs in the living room to create a dancefloor and then just let go with euphoric abandonment. It would be a welcome introduction to any end of lockdown party. Angel has done an amazing job here bringing together an all-star line-up featuring Jim Jones, Captain Future, Blockheads bassist Norman Roy-Watt and drummer of The Damned Rat Scabies. The track features so much energy and a wonderful coming together of like-minded souls, who collectively all bring real uplifting joy to the track.
The album is bought to its conclusion with Paul somewhat stretching his legs with an epic instrumental piece that takes influence from cinematic musical legends Ennio Morricone, Henry Mancini and John Barry. The unmistakable sound of the bouzouki along with flamenco guitar, coupled with an out of tune piano and a Moroccan turtle shell are all brought into play; creating a suitable accompaniment to maybe a Spaghetti Western or Italian Mafia blockbuster.
The album is not only a great piece of work in its own right, but it's also a wonderfully crafted CV for Paul Ronney-Angel. He has not only got an extensive black book of friends and contacts; he has a wonderful set of skills, more than you usually see at one of his shows. It has been a pleasure to have been on this short journey of Paul Ronney-Angel discovery and I will certainly look forward to hearing what this most interesting character has to offer in the future.
Track Listing
2020 (You Been a Pain in The Ass) – featuring Linda Gail Lewis & Danny B Harvey
Wild Turkey & Lemonade – featuring Linda Gail Lewis and Danny B Harvey
I Wanna Be Sedated – featuring Anne Marie Lewis
One Ghost Town
Last Train To Wherever – featuring Rosa Marsh
Oh Pandemic – featuring Tomirae Brown and James Brown 2
Will the Circle be Unbroken – Featuring Linda Gail Lewis, Jim Jones, Rat Scabies (The Damned) & Norman Roy-Watt (The Blockheads)
Quarantine Heartache in D Minor
Links
https://paulronneyangel.bandcamp.com
https://paulronneyangel.bigcartel.com
https://www.facebook.com/paulronney.angel
http://theurbanvoodoomachine.com
You can purchase the album here.
Words by Dave Chinery (Chinners).