South Coast singer/songwriter Marco Di Gaetano was inspired from a young age, when he discovered the masterful Ed Sheeran at work with the loop pedal. After performing at a string of festivals; local music venues and open mic nights gaining himself confidence, he released his debut album "Mindset" with the help of Matt Black at Hangover Hill studios in Blandford. Marco was born in Hampshire to parents of Italian and Greek Cypriot heritage, with his striking appearance and large mop of afro hair making him instantly recognisable wherever he goes. He is in his early twenties and is a big experimenter of sound textures using various styles to create his unique music.

The album is a ten-track affair with a couple of additional bonus, alternative version tracks; making it up to twelve in all. It features some well-thought-out songwriting that tackles a variety of social and political subjects. It opens with "Come Alive" which erupts into your speakers with an operatic fanfare (think Star Wars- Episode 1 "Duel of Fates") before Marco's significant multi-range voice joins the instrumentation. The track is predominately a protest song about standing up for Civil Rights and there is clearly a deep-rooted passion for the cause. "Lost Our Way" has some harmonic Motown elements and some 70's Funk styles, coupled with some neatly added tribal drum elements. The track details the breakdown of a close personal relationship and through the vocal you can feel the anger and frustration that this so obviously caused.

One of the standout tracks is a number called "Isolated State"; which starts with some beautiful emotive piano, before Marco delivers one of the vocal performances of the album. It's a song that is so relatable for many, it's about being lonely in/during/after relationships. At the time it was written the country was in lockdown, which I'm sure added to the feeling of Isolation that the song portrays. Next up is "Deluded Figure" and the song has a Spanish feel with its castanets and acoustic guitar sound. It reminds me a lot of George Michael's "Careless Whisper" with plenty of the same elements used. "Open Minds" and "Insanity" continue to show a diverse artist exploring lots of different textures and styles. Marco explains "Insanity" was the first song I ever penned and touches on the subject of an individual that is struggling mentally and on a downward spiral emotionally. A dark subject perhaps but one that is on topic in our society today. Having written this song, I became intrigued with the idea of creating an album of songs that relates to people's emotional states".

"Hummingbird" features two styles of vocal and sounds as though it could be two different people singing; it is indeed Marco again showing his unique vocal range and ability to mix styles. It also includes some skillfully executed guitar, which is the proverbial cherry on the cake for the number. "Dreaming" is a mellow but intense tune that features some more wonderfully delivered Spanish-style acoustic guitar. The song benefits from the use of reverb and oboe instrumentation, which helps create a dreamlike atmosphere of longing. It's a simple track that relies on Marco's heartfelt vocals and Matt Black's spot-on production that more than helped convey the desperation one can feel when their personal dreams seem so out of reach.
"There's No Loving Anymore" is a hard-hitting tune with a conscience at the heart of it. The inspiration for it comes from the CIA mind control experiments of the 1960's. Marco was appalled to think that humans could inflict such pain and suffering on their fellow man and this song was the result of his disgust of such acts. Marco uses a vocal riff to represent the screams and anguish of the individual being experimented on. In places, it reminds me of The Doors and also "Ghost Town" by The Specials, where the band use similar vocals to create a similar effect. The final track is the title track and is an accumulation of this singer/songwriter's emotional journey. It is there to represent that whatever our struggles may be mental, we should all keep in sight that the positivity of love and doing the right thing can make all the difference to our mental state. It's a gentle number that features the ripple of acoustic guitar, backed with Marco's ever-changing vocal which easily moves between octaves.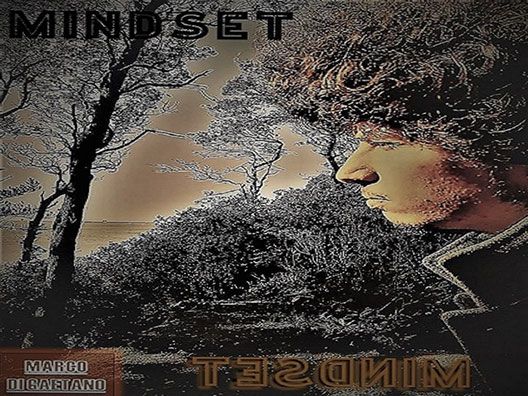 Marco explains "Mindset is a collection of songs that explore our mental wellbeing/aspects of human feelings that most of us in society may experience at some time in our lives. On a personal level, every song explains how I felt when I wrote them at that specific moment. I would like to think that my album Mindset allows the listener to reflect on their own mindset, should perhaps any of my songs strike a chord with them on a personal level. If not, I hope the listener just appreciates the album as a collection of catchy tracks that they can sing along to inspirational moments surrounding the album."
The album is a remarkable achievement from a singer/songwriter with lots of considerable talent in many different areas. Though he is still young the album shows a real maturity for relevance, from the heart song-writing and strong creative ability to experiment.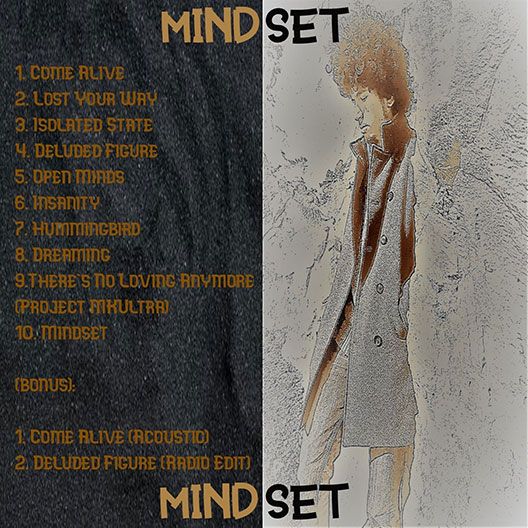 Track Listing
Come Alive
Lost Your Way
Isolated State
Deluded Figure
Open Minds
Insanity
Hummingbird
Dreaming
There's No Loving Anymore (Project MK Ultra)
Mindset
Deluded Figure (Radio Mix)
Come Alive (Acoustic)
Links
https://mdigaetanomusic.com
https://www.facebook.com/marcodigaetano.music2000
Words by David Chinery (Chinners).