Once upon a time in Bournemouth there was a place called "The Burrow", a music hub that collectively produced a whole host of eclectic artists including "Not Made In China", "Those Minor Characters", "Powdered Cows", "Disco's Out (Murders In)", "Plates" and "Beartown Zodiac" (and More!!). Six years after Beartown Zodiac's debut album "Star Map Home" they have regrouped and recorded a brand new EP called "Pioneers". The band includes the four members from the original line-up, as well as Martin Ruddock on guitar from the much loved "Those Minor Characters".
Frontman David Bird-Hawkins explains "it's about ideas of the future, written in the past when there still was one. Topics include the spread of worrying news, videophones, boring monochrome, and holding your loved ones during terrifying times, which is pretty damn prescient considering Beartown Zodiac finished recording it last decade. The EP imagines a band recording songs in 1950s to be included in a time capsule, only to be opened in the 21st century. Did they make the correct predictions? Does the future of the past exist? We wrote and recorded these songs pre-Trump and Pre-Covid, which is quite weird how prescient the songs are"

The new EP contains six tracks and with the use of the Docs DeLorean time machine; the band has been dancing their way through different decades, to bring us this new all original EP. It opens with "We Don't Know Any Better", a brooding number that starts gently with light percussion and guitar; coupled with David's significant vocal that reminds me a little of Damon Albarn. The message comes through loud and clear with the lyric "hold the ones you love" repeated over before some wonderfully atmospheric guitar takes us to the close.
A quick jump forward in time next for "Jetpacks" which starts off with some neatly delivered keys; toe-tapping percussion, along with some lovely vocal harmonies with David and Tiff's voices sounding divine together. Ironically this future-based tune has a real retro feel to it with many different influences showing themselves. "Vidicon 500" turns everything on its head with some effect-fed electric guitar, along with some distorted reverb vocals. At just 2 minutes 12 seconds it whistles past in a flash, telling of a futurist communication device.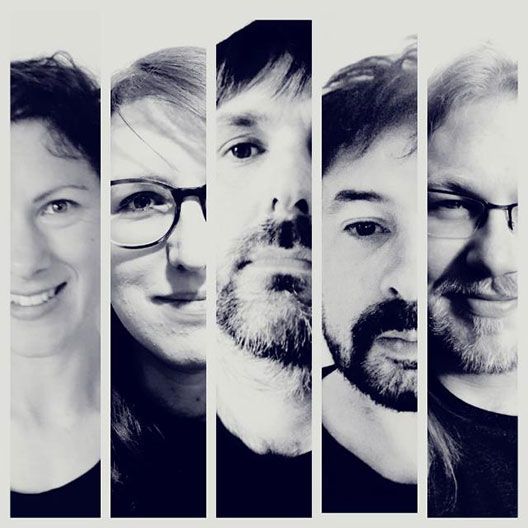 Next the title track "Pioneers" combines guitars with some seductive keys that just float along blissfully, filling your ears with joy. The penultimate track of this collection is "Digital Wildfire" which starts with some guitar and reverbed vocal, which reminds me of Blur's "Coffee & TV" (remember the video with the milk Cartons going to heaven?) It has a wonderful lyric "if it circulates everything reverberates", along with some impressive 'effect' guitar from Martin Ruddock with what sounds like he is using Ebow to create. The final offering is "Monochrome" and as with most concept style pieces it continues in the same vein, with a really different sound. Alison (who you may also know from her other band (The Two Man Travelling Medicine Show) brings some sensuous violin to this monochrome landscape, while David adds some haunting vocals before some Morse code brings the Ep to a close.
It's been far too long to have these 5 guys away from the local music scene and it's a pleasure to see them back once again with a thrilling EP, that has so much to give and a whole load of experiences and influences to draw from. Let's hope they get themselves back up to speed and playing live again too.
Track Listing
We Don't Know Any Better
Jetpacks
Vidicon 500
Pioneers
Digital Wildfire
Monochrome
All songs written by David Bird-Hawkins, except track 4 (Pioneers), music written by Bird-Hawkins and Ruddock. Recorded, mixed and mastered by Matthew Musial at The Burrow Bournemouth.
Beartown Zodiac
David Bird-Hawkins – Vocals, guitar
Martin Ruddock – Lead Guitar
Tiff Wheaton-Green – Bass and backing vocals
Matthew Musial – Drums, additional guitars and keyboards/piano
Alison Jay – Violin
You can purchase the EP here.
Links
https://www.facebook.com/beartownzodiac
Words By David Chinery (Chinners).