Old Fire Station, Bournemouth

As summer turns to autumn and suddenly band tour schedules are increasing, The Vaccines are in town in support of their latest LP Back In Love City. Supporting them are the interestingly titled BSI (Brussel Sprouts International)! This experimental Icelandic duo consists of a female drummer/vocalist and a male bassist. They begin with little fuss and open with some soft, sultry Indie/Pop, where I'm briefly reminded of 90's Indie under-achievers Bang Bang Machine. They open with a track simply titled "TAL 11" while "My Knee Against Kyriarchy" is an early highlight.
A brief foray into "cover version territory" heralds a less than decent cover of the Spice Girls "Wannabe". However, after this they gain the confidence of the early arrivers and build their set up more with harder, edgier songs like "Onknown". Heavier basslines adorn the remainder of the set as the bassist barely moves from his spot, but latterly there is no lack of power. They end with "Vesterbajer Beach" and after thirty minutes they leave the stage to decent applause.
And so to our headliners. It's been a few years since The Vaccines have ventured this far South, but on the evidence of tonight's show it was worth the wait. They open with "Wanderlust" and Justin (vox/guitar) lets us know early doors he's in the mood to have fun. I have not seen a frontman so animated from start to finish in a long while. He pulls every shape possible and makes it look like he's singing to individual members of this audience. "I Can't Quit" and "I Always Knew" encourage the first of many singalongs as the band go from old to new songs, back and forth throughout.
The venue is packed down the front and everyone in the room wants to take part. Recent single "Alone Star" is well received, as are all the newer songs tonight. However "Wetsuit" finds the whole room in fine voice. Justin duly encourages the singalongs and we don't disappoint him.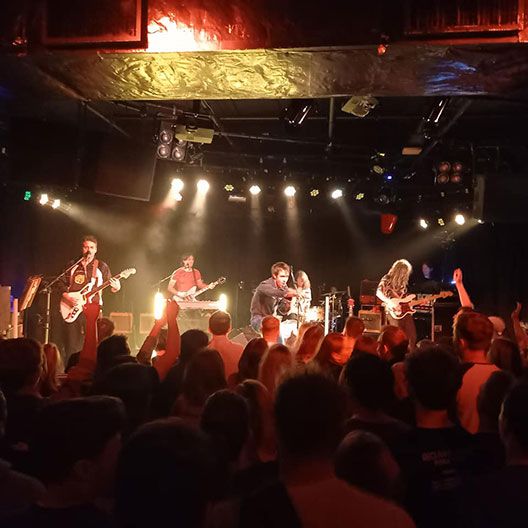 An early highlight is the now-familiar faster version of 'Post Break Up Sex', which sees this crowd come alive. This mixed-age audience has clearly come to unwind and let the shackles of Covid come off. "Your Love Is My Favourite Band" gives brief respite as the energy drops somewhat, swiftly followed by the Spanish-influenced "El Paso". Lead single "Headphones Baby" gets us back on course as we head into the latter part of the set.
I have to admit to not being overwhelmed initially by the new material, but I'm won overhearing them in the live arena – this band convey something very special live. "Handsome" gets the whole room clapping along as they up the ante with "Jump Off The Top", which literally has the place jumping! I am now officially won over by the new songs, but the best is yet to come. "All My Friends" is delivered with a passion that is met by this now fervent crowd. We all sing in unison before a rampant "If You Wanna" takes it up a notch. However, the closing track "XCT" is simply brilliant. Justin delivers his vocal in a hard, harsh manner in places – the Pop is replaced by something altogether darker and Electronic. There's a power and urgency to his vocal I have not heard in a while and the song ebbs and flows throughout. And that is the end of the main set.
The chants of "One More Song" aren't ignored but I can't remember the two tracks they departed us on I was so engaged at the moment! Suffice to say this 50-something was too busy dancing to take anything in!! Justin pays homage to Bournemouth as a town, the venue itself, and his introduction to live music with the band, it's a heartfelt, passionate speech that is warmly applauded. They give us two more bangers before exiting stage right.
And lastly, let's not forget that this show is being supported by the Music Venue Trust, and the buy one (ticket) and get a mate in for free (with a Lottery Ticket) initiative has been a success, achieving a complete sell-out. It seems to be popular and maybe a format for shows in the future? Having seen The Vaccines in two larger venues, it was a pleasure to witness them in a more intimate setting. I'm sure tonight's show will be fondly remembered as one of those events where you just "had to be there".
Set Lists
The Vaccines
Wanderlust
I Can't Quit
I Always Knew
Alone Star
Paranormal Romance
Wetsuit
Post Break Up Sex
Your Love Is My Favourite Band
El Paso
Headphones Baby
Handsome
Jump Off The Top
All My Friends
If You Wanna
XCT
BSI
TAL 11
25Lue
My Knee Against Kyriarchy
Wannabe (Spice Girls cover)
Unknown
Dónakallalagiò
Vesturbæjar Beach
Links
https://thevaccines.com
https://www.facebook.com/brusselssproutsintl
Review by Ross A. Ferrone.