Sangrownians the Takeaway Thieves have just released their highly anticipated debut album "9", the five-piece Rock act got together with producer Dave Draper to create this album that the band has dreamed about releasing since forming in 2018. They have been a very active live band securing support slots with The Quireboys, Electric Boys, Massive Wagons, EnuffZNuff, Love/Hate, Towers of London, The Erotics, Shark Island and have performed at a number of major festivals including HRH Sleaze Festival.

The nine-track album captures the essence of the band's energetic live performances and their combined creative abilities. Kicking off with powerful opener "13 Feathers", they set out their stall early with a track full of hard-hitting rousing rhythms and wondrous guitar riffs, along with Peter's powerful vocals. "Snakes and Daggers" continues showing a band really stretching their legs with plenty of swagger and forays into full-band harmonies that positively jump out of the speakers at you, before a rip-roaring guitar solo gives our ears a treat. One of the previously released singles "Soothe Me", shows the band are adept at the art of creating a melodic tune with plenty of twists and turns without limitation,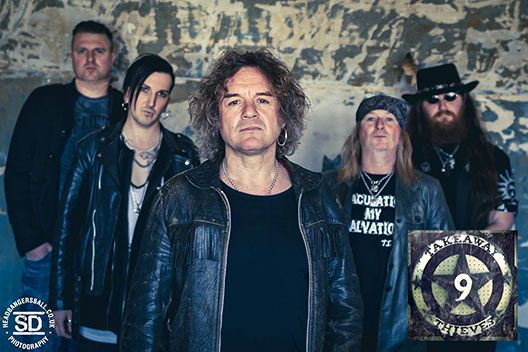 "Big Mistake" sound wise reminds me of something from The Cult's "Electric" album period, with a big bold in-yer-face guitar sound, with a catchy riff that latches on right from the first listen. "Lose it" shows the band experimenting with new rhythmic methods, that sound like the drummer has found an oil drum and he is hitting it with all that he's got. "Hot Cat" is certainly one of the standout tracks from this collection and here the band have created a real gem of a tune, full of provoking lyrics and a groove that would get any self-respecting Rock fan to the dance floor. The 2nd single from this collection is "Spider"; a darker, grittier tune with an epic opening; followed by a crescendo of layered guitars, along with the creepy demeanor of the eight-legged arachnid and infectious multiple vocal choruses of "Spider is crawling".

The penultimate track "Honky Tonk" keeps the momentum going and shows, without doubt, there are no fillers on this debut, the band member's fine chemistry continues. The final number "Stranger In This Town" shows the band is not one-trick ponies; with a much slower ballad-like number where Peter sings along emotionally, accompanied by just a piano with a "lighters in the air moment" and a nice diversion from the band's fast-paced numbers.
The "Takeaway Thieves" with this impressive debut offering could soon be hitting the UK motorways and following some of the other NWOCR bands onto some of the larger festival stages.
Track Listing
13 Feathers
Snakes & Daggers
Soothe Me
Big Mistake
Lose It
Hot Cat
Spider
Honky Tonk
Stranger in This Town
Takeaway Thieves are
Peter Mcloughlin – Vocals
Ben Gibson – Lead Guitar
Neil Hunter – Rhythm Guitar
Adam Hall – Bass Guitar
Max Yates – Drums
Links
https://www.takeawaythieves.com
https://www.facebook.com/takeawaythieves
Words by David Chinery (Chinners).