Lighthouse Poole

In a special edition of "Live and Unheard" dubbed "Live and Unlimited", the usual monthly musical excursion migrates to the main theatre stage of the Lighthouse in Poole. It's a big thanks to Hangover Hill productions and the immense effort they've put in with Live and Unheard over the years that such a great venue as Poole Lighthouse is made available for local bands, as well as the more well-known Feast of Fiddles.
Feast of Fiddles need little introduction, tentatively stumbling onto the Folk-Rock scene curtesy of 1993's Cropredy festival and a 1994 meet up in the car park of Nettlebed Folk Club; this is not just a feast of fiddles in the name; five fiddles are joined by bass, guitar, drums, concertina, melodeon, keys and synths, and a rather bizarre-looking dual 8 / 12 string double-necked bouzouki. This is Feast of Fiddles's first time they've played an indoor theatre concert for almost 3 years.
Our openers tonight are fresh from their victory as best newcomer at the British very awards. Plastic Jeezus immediately start the laughs coming with "Put A Little Effort In" a fantastic play on words; the set continues very much in a similar vein.
Newly featured tonight is Aaron's latest acquisition, a bass ukulele, which obtains its own mention during a part of the patter. Many of the song endings are beautifully unexpected, catching the audience out on these occasions, this catch out continues with "Kenneth", while this is a principal of their set it is clear many of the audience think it's a serious song by the way it is received, unlike the follower "Delete As Appropriate". We end on a high point with "Jamie's Tongue Twizzler" a typical example of the quick wit and comic prose predominant with Plastic Jeezus.
The Two Man Travelling Medicine Show are clearly pleased to be here, loving the large stage ("bigger than many of the *entire venues* we play in" they quip) and taking advantage of this, wandering around as they will. There's more than two of them, they don't travel, and they don't have a doctor, as they joke themselves.
Kicking off with their slower beated "Snapping Bones" from the new album gives plenty of room for our fiddler to show us his speed skills, giving an overall fast and furious feeling. Vocal harmonies echo the variety of instruments we have here; the banjo & fiddle interplay brings a different dynamic to what would be otherwise a drum/bass/guitar three-piece.
"Lose Your Step" brings the pace up; then breaks in the middle for an acapella duet, the stillness among the audience is palpable until their appreciation of other genres takes us to a massive departure from the norm as The Beastie Boys "(You Gotta) Fight For Your Right (To Party)" is given the Two Man Travelling Medicine Show treatment.
"A Snake's A Snake" they say is their biggest single release to date, very punchy and one can tell they're having a lot of fun on stage, before the guitar-led more balladic "Ghosts" gives plenty of scope for the vocals to shine out before we crash back to the pace towards the close of what feels to have been far too short a set. Their next gig is on December 4th in a field in Lychett Matravers on the old Wonky Donk Festival site.
We are finally treated to Feast of Fiddles; the dry humour of Hugh Crabtree, our van Morrison lookalike leader and storyteller, impeccably dressed in black with white tie and white spat shoes immediately springs to the fore as he cheekily comments "there's normally longer applause to give us time to sort ourselves out!".
Straight into the "Theme from the Magnificent Seven", it's really more of an excuse for jigs and reels aplenty in a theme and variations manner akin to the more classical music this great Lighthouse stage is used to presenting. "Ivor the Knight" demonstrates wonderful storytelling with beautiful harmonies and battling fiddles while "Lochanside to Maribor" is an adaptation of a pipe tune which works really well on five fiddles. Each can take an element of a pipe drone and make something amazing happen as the collective. It provides a curious mix of Irish standards with Eastern European Slavonic undernotes (Maribor being the cultural centre of Slovenia)
We're next regaled with a medley of six jigs, for those that don't know a jig is six of these (right-hand fingers) and 8 of these (left-hand fingers). Unusually started by a bass solo, deliberately messed up and stage stolen before cracking into some amazing furious action. Just a massive shame we're not in a mosh pit here, these guys apparently go down really well when making their regular appearance at the New Forest Folk Festival.
Following this, we are encouraged to play name that tune, with rock classics given the feast of fiddles treatment, before we're treated to Brian McNeill's self-penned song, "The Yew Tree", both haunting and hopeful.
Our last song of the set "Smugglers" is a staple that I first heard performed by The Men They Couldn't Hang, way back in the 80's; we're all invited to join in with gusto. The Crabtree dry wit concludes with instruction to "go berserk at the end and bring on an encore of two more songs, remember the plan so we [the band] can feign appropriate surprise"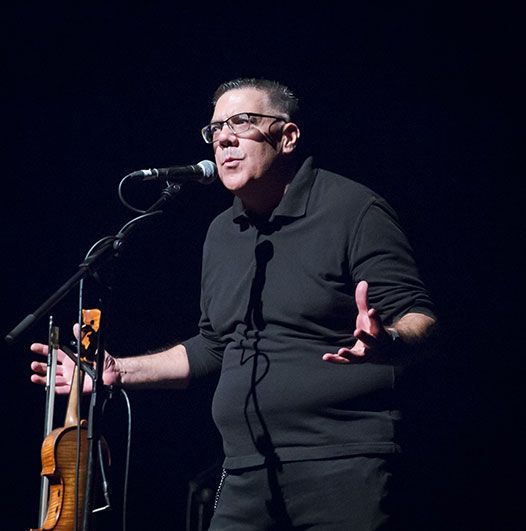 Set Lists
Feast of Fiddles
The Magnificent Seven
Ivor the Knight
Lochanside to Maribor
Jigs Medley
Morris Dancing Medley
Ditching Boy
Walk Before You Fly
Yew Tree
Mcbrides
Smugglers
Pirates to Morrisons
Going Home
The Two Man Travelling Medicine Show
Snapping Bones
Life's Quite Bland
The Same Old Lines
Lose Your Step
Fight for Your Right to Party(The Beastie Boys)
A Snake's a Snake
Ghosts
Float Your Boat
Rat in the Palace
Plastic Jeezus
Effort
Hold Music
Patchwork Covers
Moaning With Pleasure
Kenneth
Part Crustacean
Horse's Arse
My Angle
Tongue Twizzler
Videos





Links
https://feastoffiddles.co.uk
https://www.facebook.com/TheTwoManTravellingMedicineShow
http://www.plasticjeezus.co.uk
Words by Tim Heywood.
Pictures by Lynn Frances Photography.