It's always great to receive details about a new band that has formed on our manor. Bournemouth-based Indie/Rock four-piece Small Talk is set to release their debut single "Headstart" on the 18th of February 2022. The song touches on topics such as love, loss, heartbreak, loneliness, and inferiority in a world where everyone is constantly trying to better each other, buy new things, and show off their latest achievements.
The band formed when school friends Ben Lewis (Vocals and Bass) and Ali Barron (Guitar) got together after finding they have the same passion for similar genres of music. They both have forever dreamed of playing in a band and touring the country. As a result to kick-start their dream, they both began writing songs together and recruited Harry Whitton (Drums) and Jack Babbe (Guitar) to complete the band.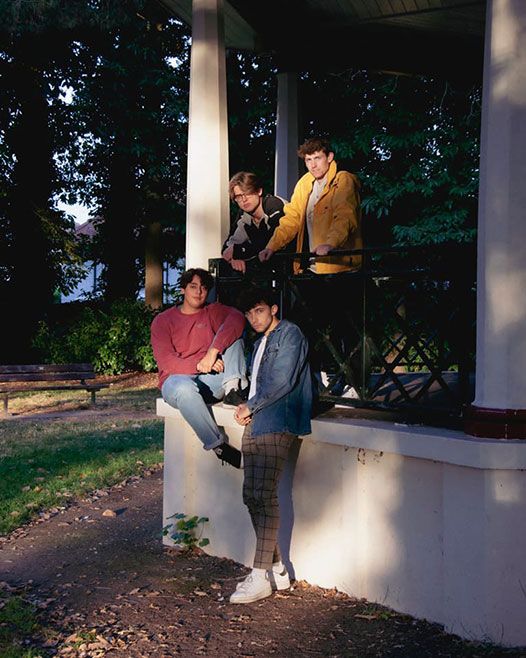 Frontman Ben Lewis explains "Headstart was written at a time when I just felt inferior to everyone. It seemed everyone I knew on social media was moving on with their lives and doing amazing things, while I was stuck in the same place. It kind of tackles that issue through the eyes of someone who went through a difficult relationship and experienced this downfall."
The track is certainly an impressive debut, featuring twin guitar melodies, along with infectious rhythms and a decent vocal delivery to boot. These guys are at the genesis of their initial inceptions and just picking and learning the instruments is a big deal. To get a band together and to record a debut single is an even bigger deal, I wish them well and look forward to seeing them on our flourishing live music circuit sometime in the near future.
Small Talk
Ben Lewis (Vocals and Bass)
Ali Barron (Guitar)
Harry Whitton (Drums)
Jack Babbe (Guitar)
Debut single "Headstart" is out on the 18th Feb!! Pre-save it here.
Links
https://www.facebook.com/smalltalk_bnd
Words by David Chinery (Chinners).